---
Arriving in Yazd has a somewhat symbolic meaning for us. This is as far East as we got on our Persian expedition back in 2005, and being back here kind of closes the circle. Little did we know back then that Iran would turn out to be such a great inspiration that we would return with 112 000 kilometers on the clock, and respective amount of experiences from the whole world.
Sure the country has changed in those five years - any country would. But it is us who have changed as well, and the way we see things. Iran was the first Islamic country for us to visit, and quite contrary to all this "axis of evil" stuff, the impression we had received was that of an intriguing ancient civilization, of incredibly refined art, and of unexpectedly warm people. As we discovered later, not all Islamic countries in the world are the same, so it must not be the religion that orchestrates the whole thing. Maybe the crucial factor is the fact that the nowadays Iran is the region that has been inhabited by the same people the longest of all regions in the world.
Yazd still looks and feels the same as five years ago. Well, maybe more developed and more touristy, but overall it is still great to pay a visit to the magnificent mosques (I think many would agree that mosques in Iran are amongst the most beautiful and gracious of the world) and get lost in the maze of centuries old adobe buildings.
It is confusing and enchanting all at the same time, to wander around in the narrow streets of Yazd. Unlike in the subcontinent, it is clean and quiet, really quiet. No piles of rubbish, no smelly ditches, no goat, no cows. And no people. Of course there are people living in this ancient town, it is just that all the life goes on in the cosy courtyards hidden behind the high adobe walls. Only doors open onto the street.
And then there are the huge domed water reservoirs that were once used to store the town's water supply, and four-sided wind towers to catch the slightest wind and bring it down to living quarters. It is very hot here in summer indeed.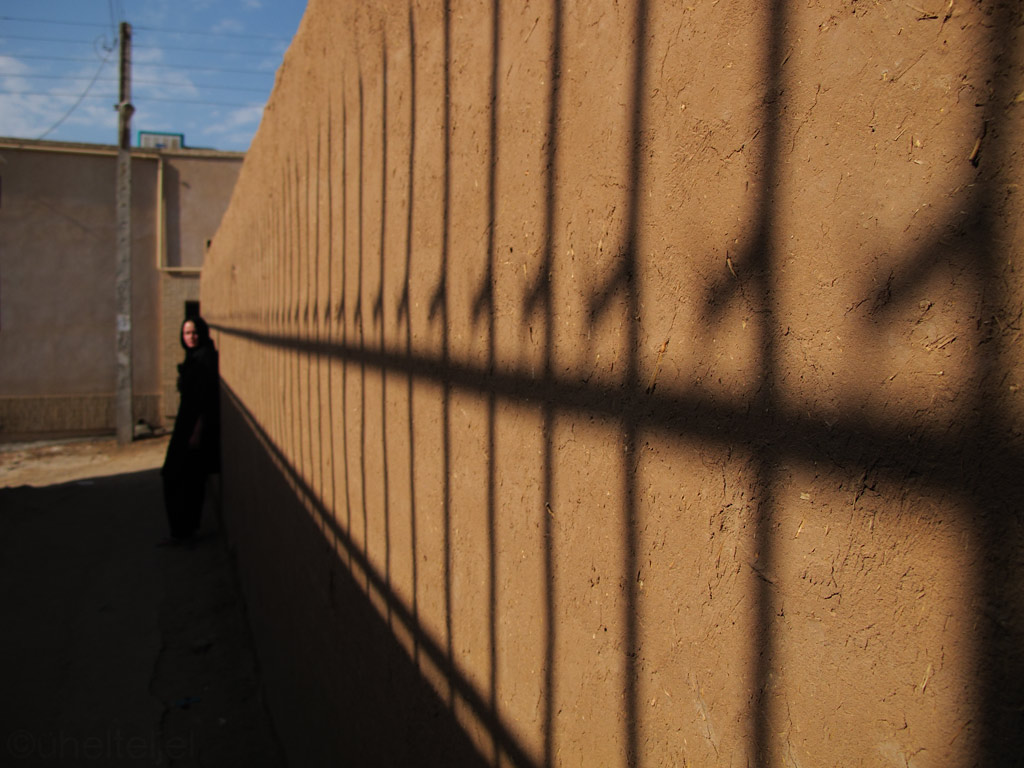 On a Yazd street.

Panorama from Yazd (click to enlarge).
Recording from the same spot - children on the street, a far-away mullah singing and a motorcycle finding its way through the complex Yazd labyrinth street system:
.:: LISTEN ::.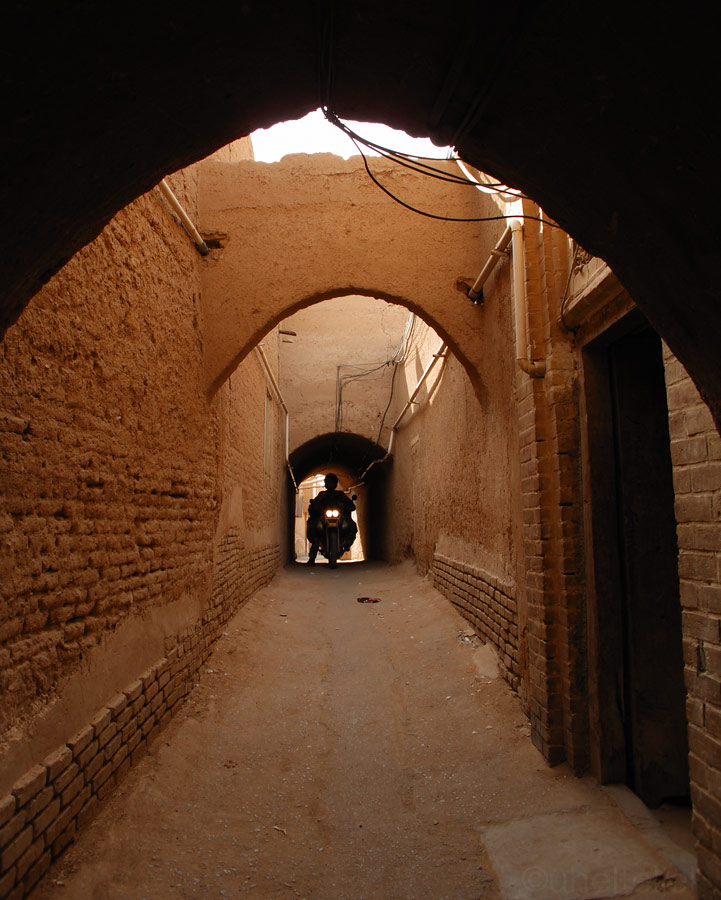 Yazd fits our lardy GS well.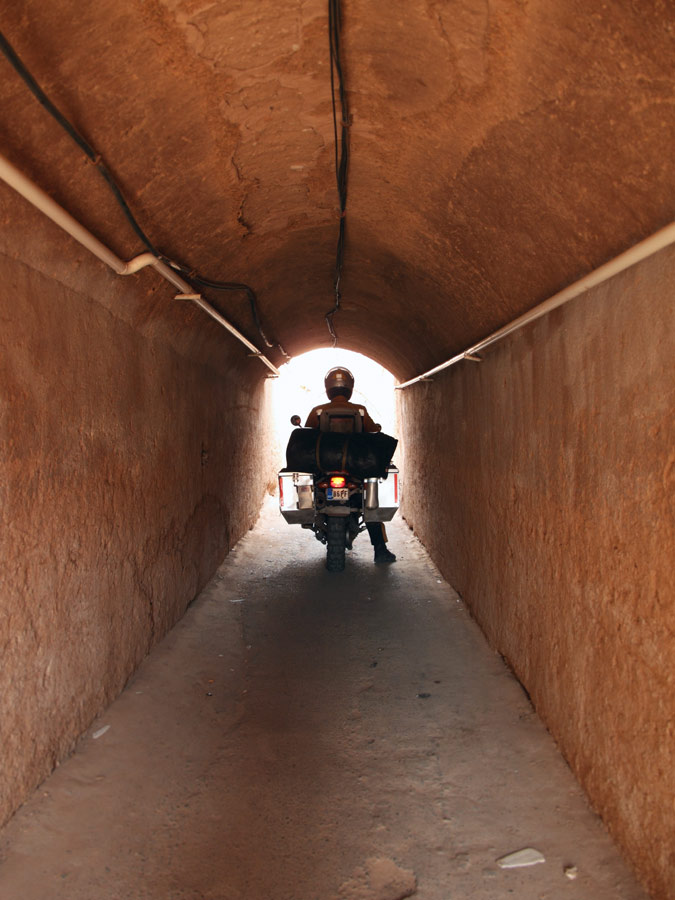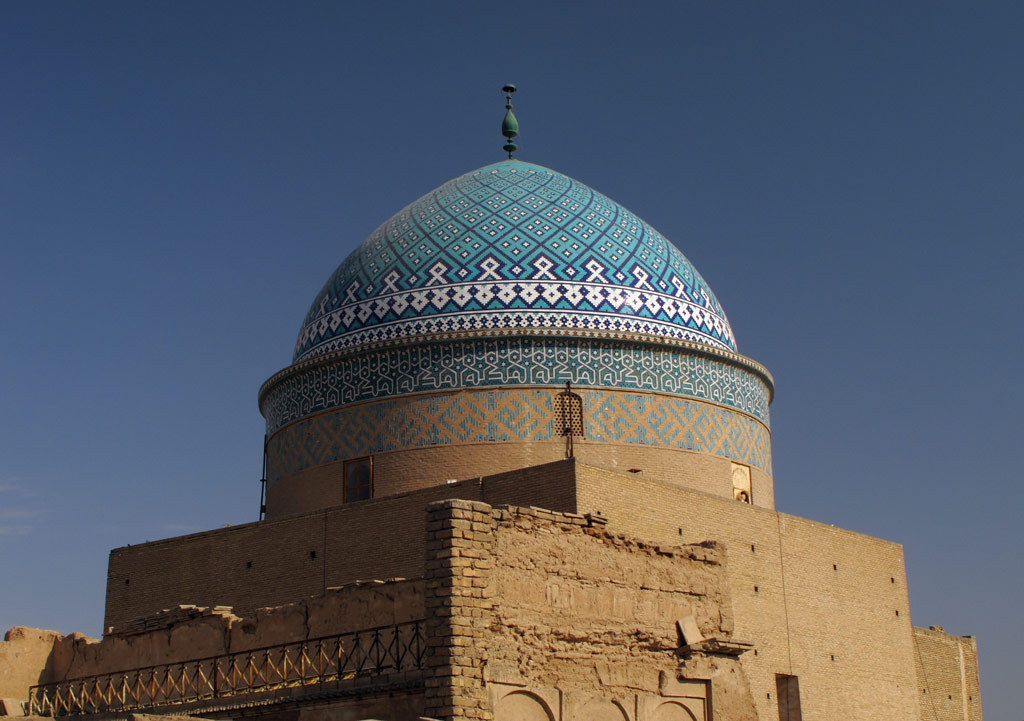 Bogheh-ye Sayyed Roknaddin mausoleum.
Behind someone's romantic home door.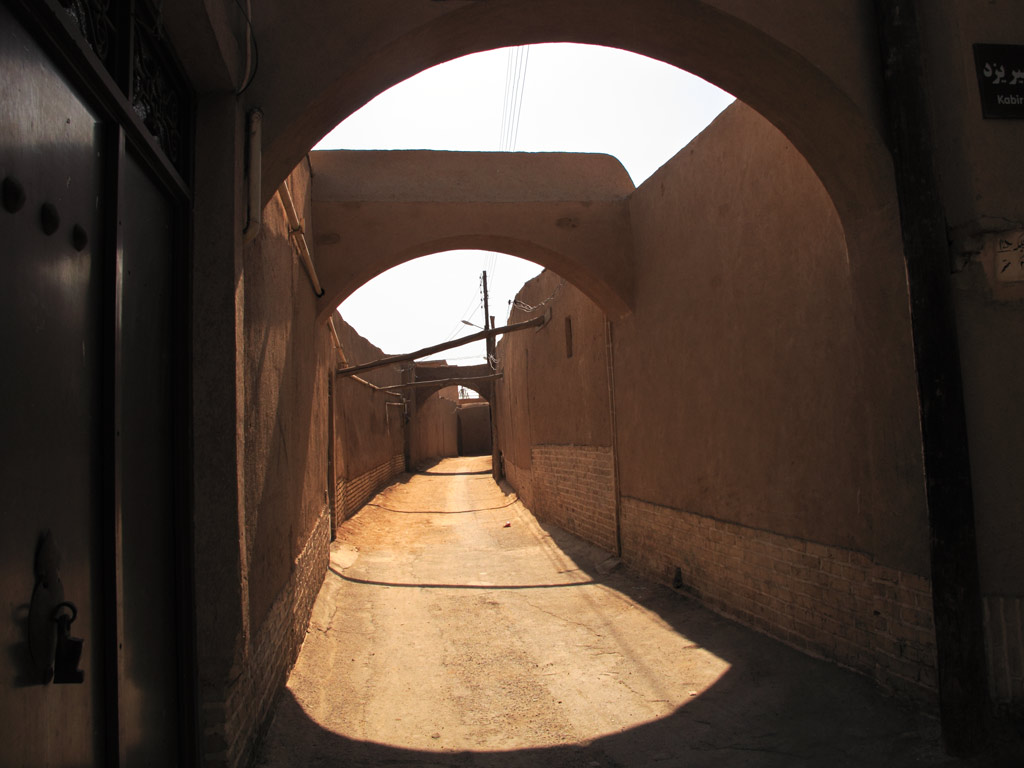 Yazd streets.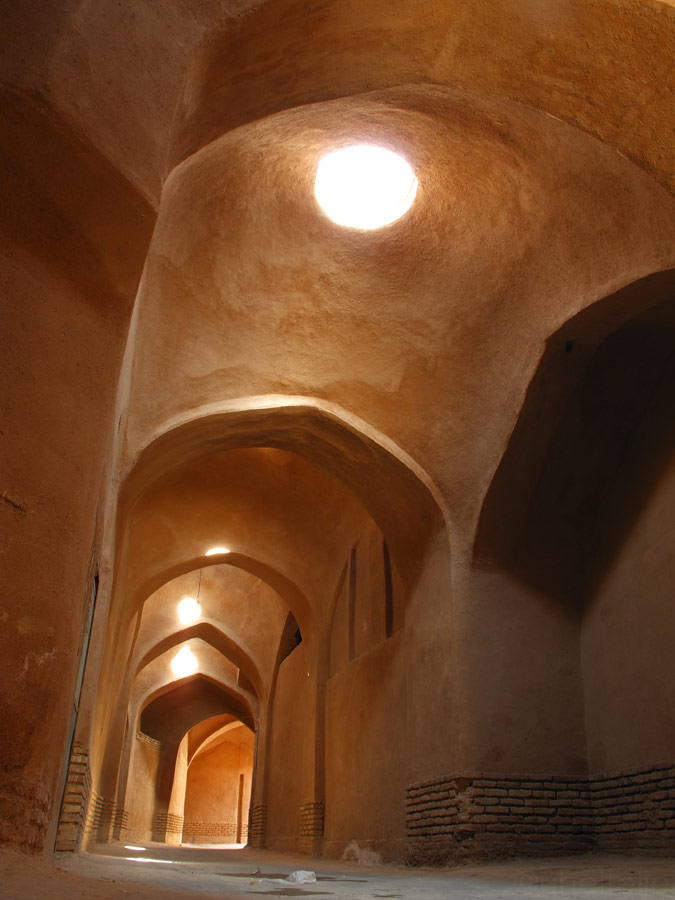 Streets are often covered creating stunning Persian architecture alleys...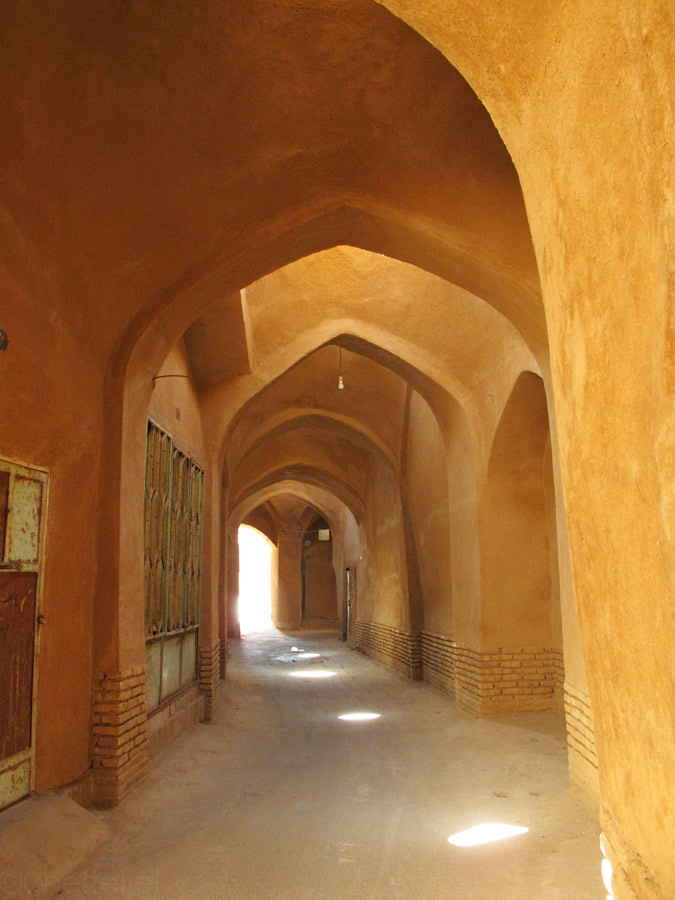 Panorama of Yazd street (click to enlarge).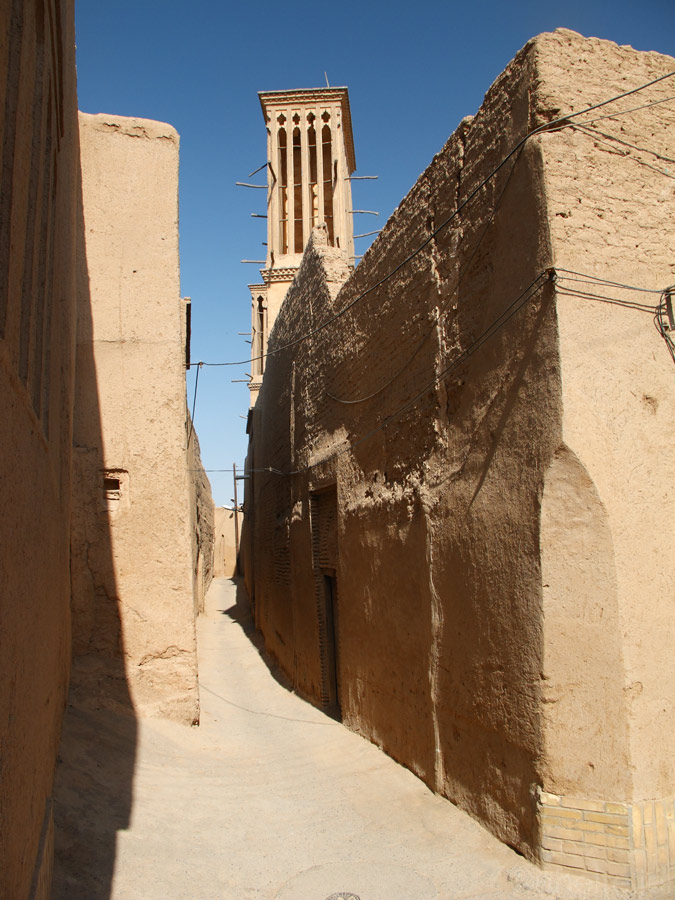 Street with a wind tower rising above it.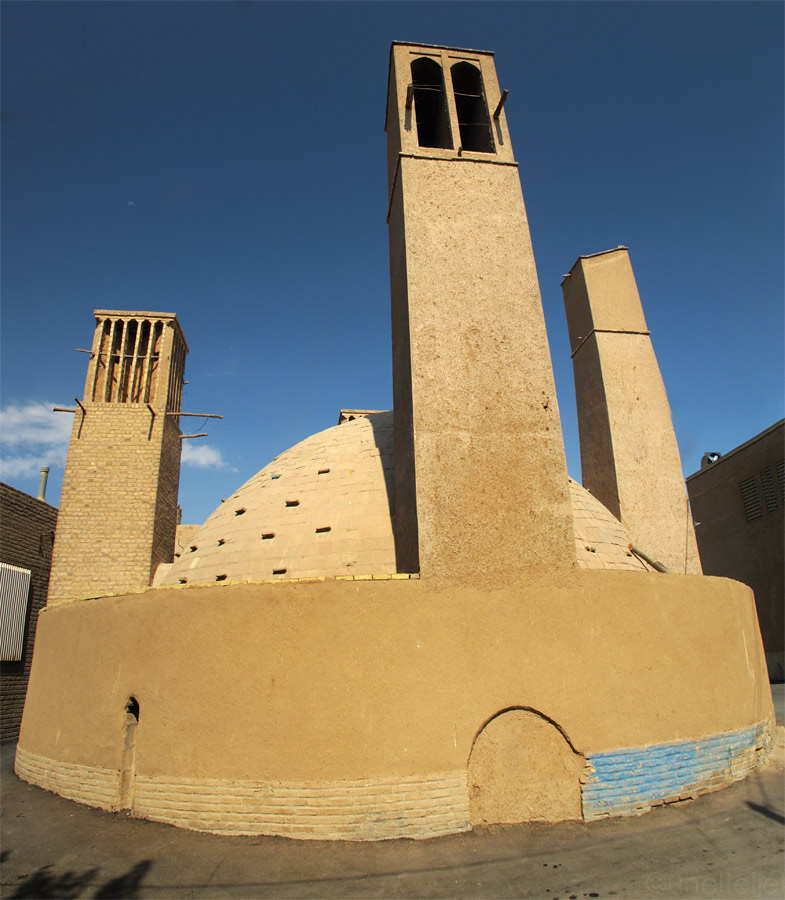 Water reservoir with cooling wind towers.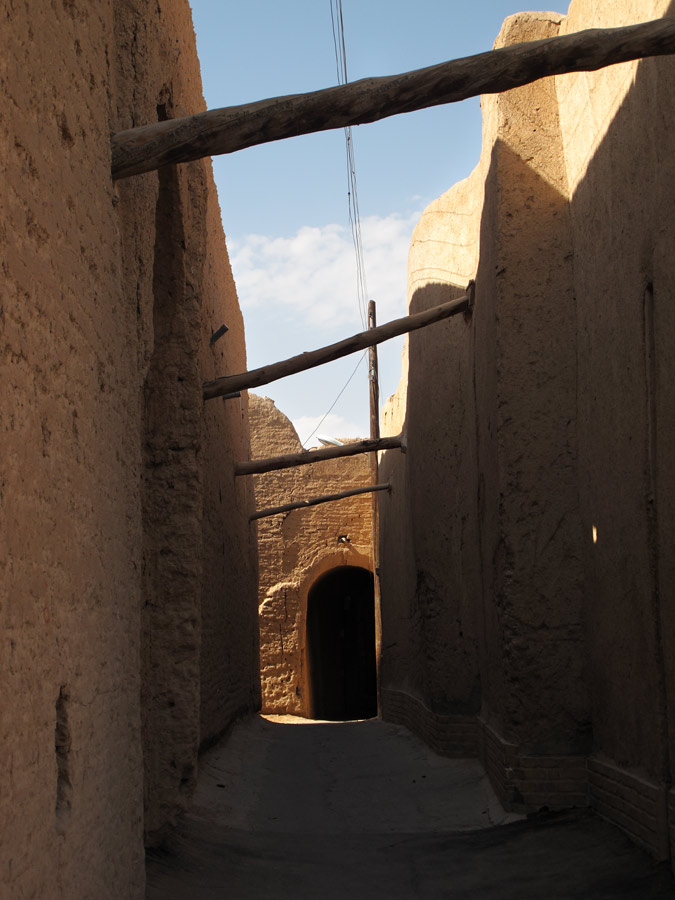 Typical Yazd streets...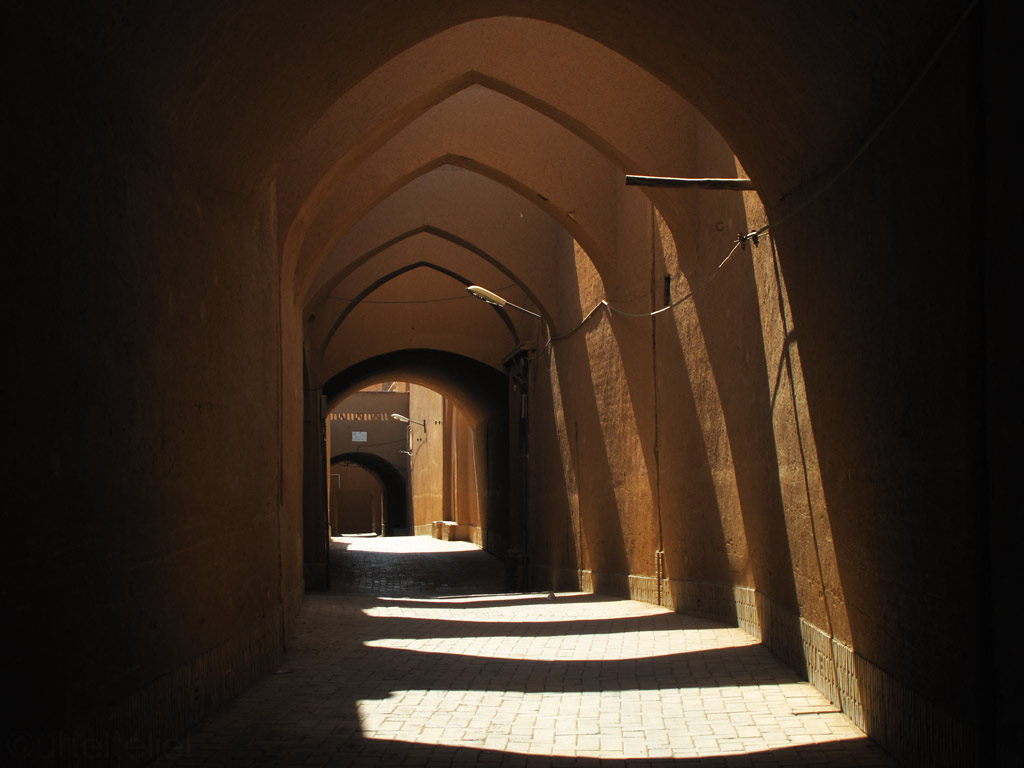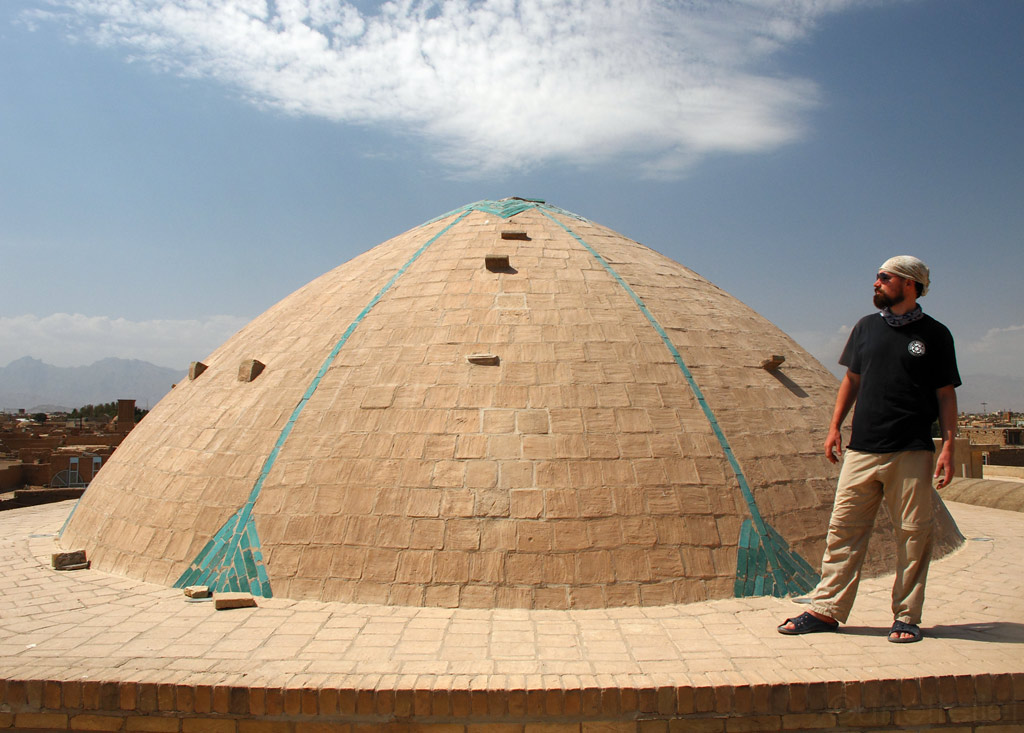 On the roof of Hosseinieh.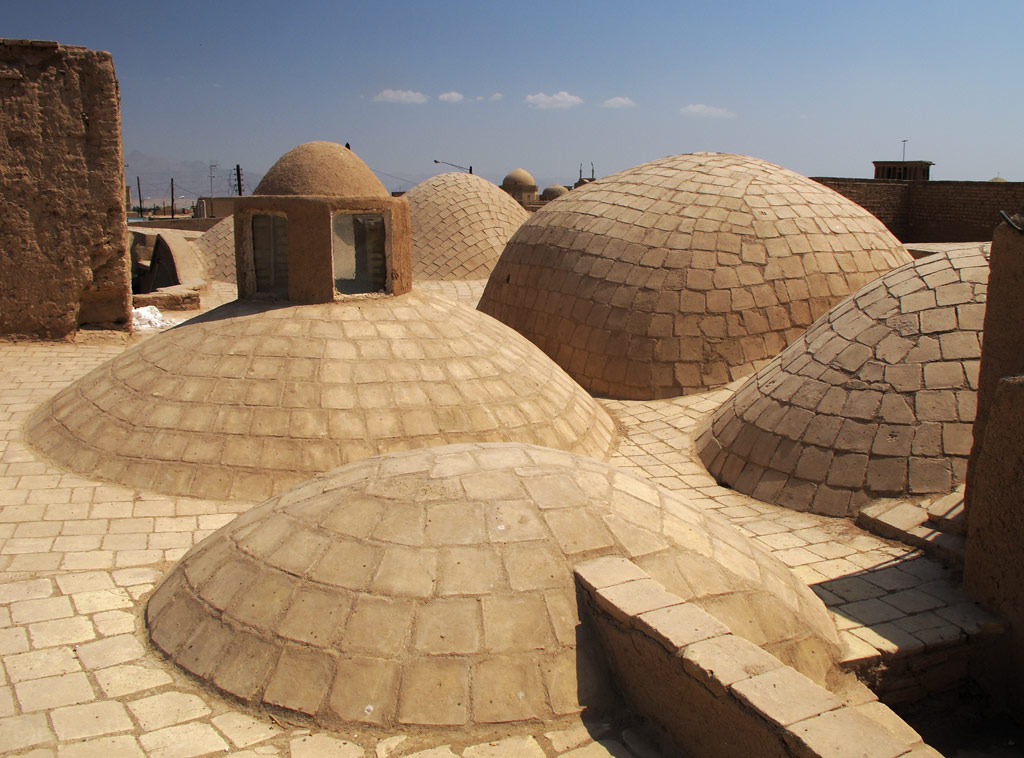 Roofs of Yazd.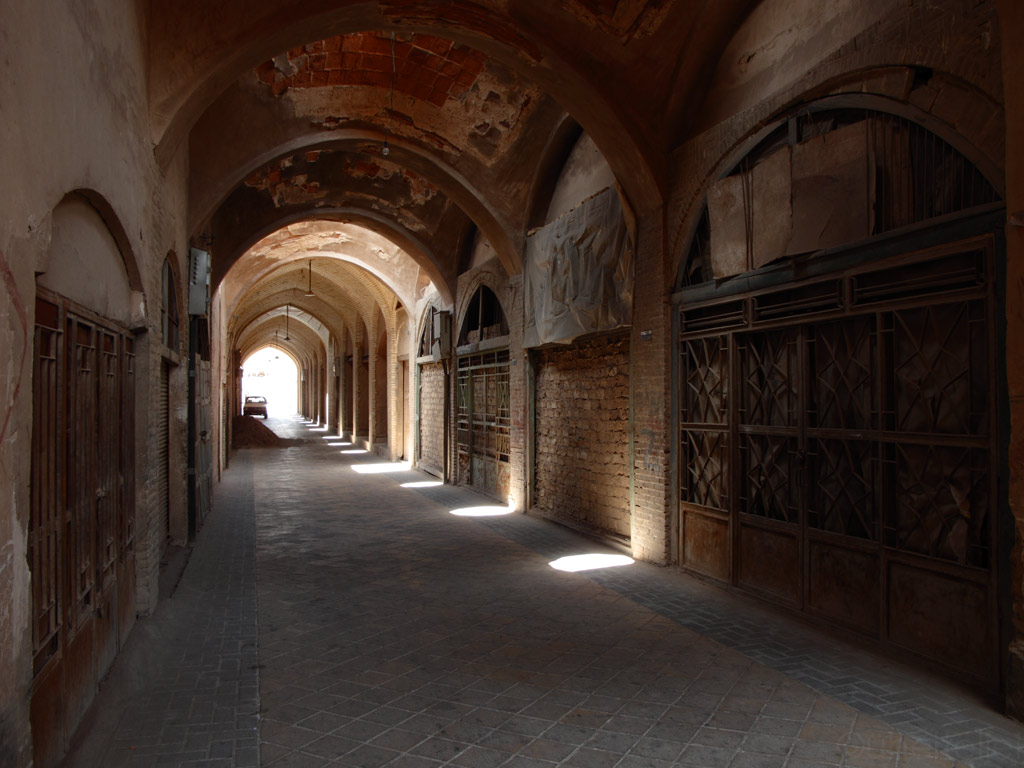 Street.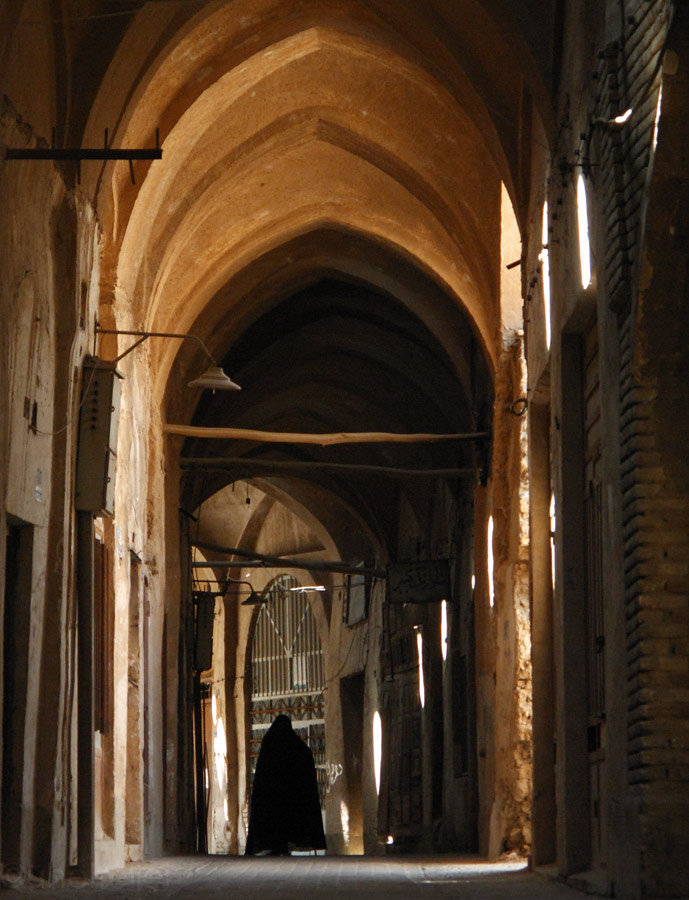 A lingering woman in Yazd.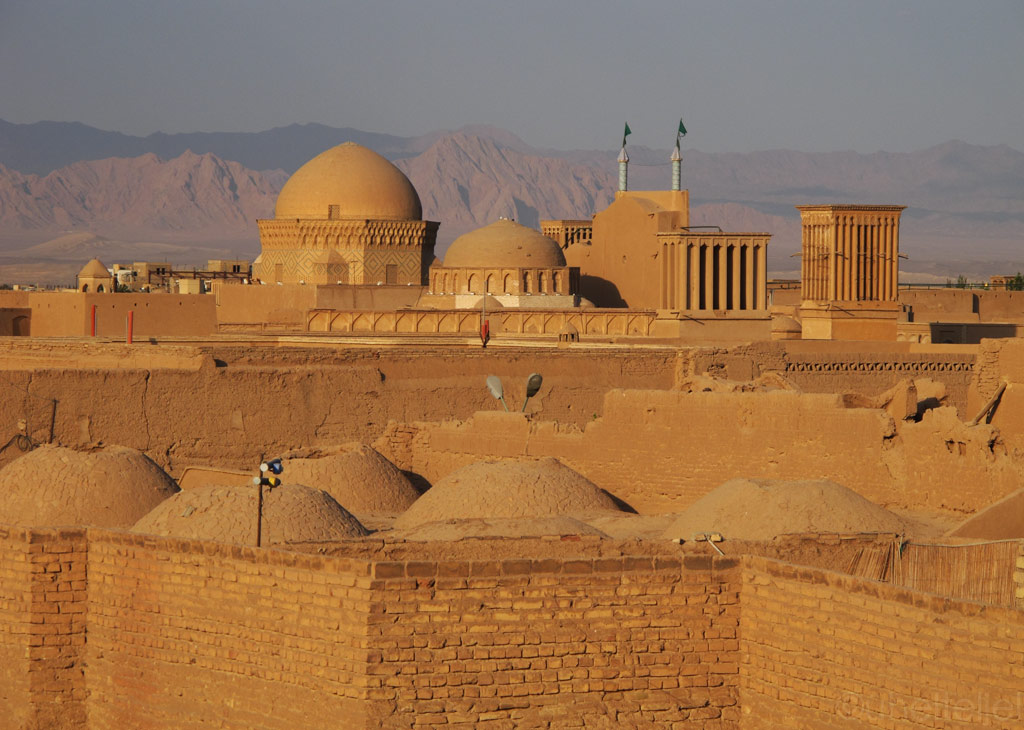 Yazd in sunset.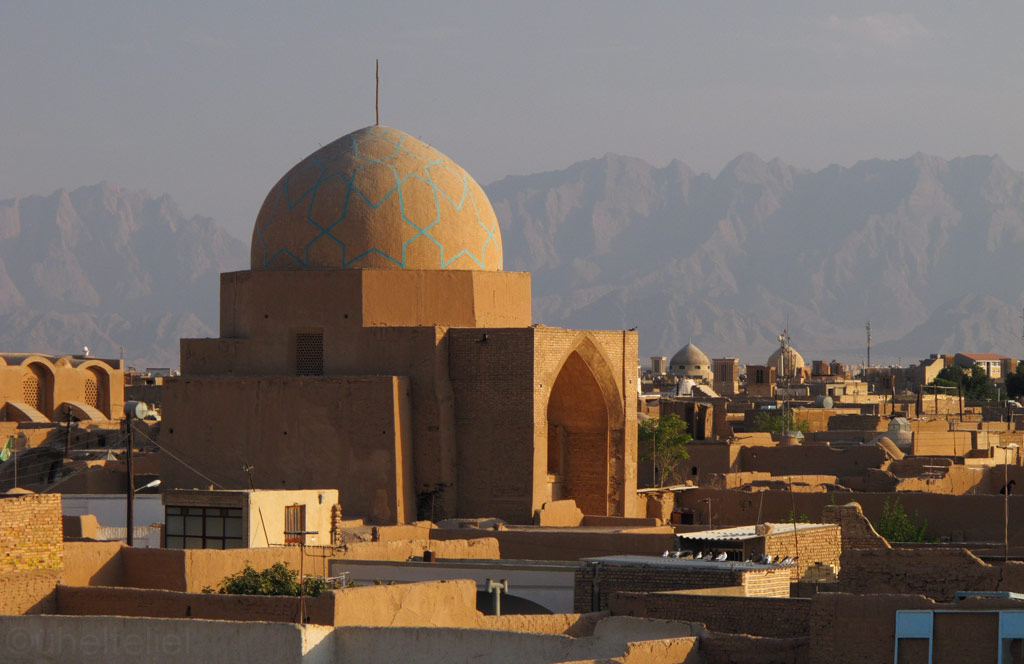 Madraseh-e-Kamalieh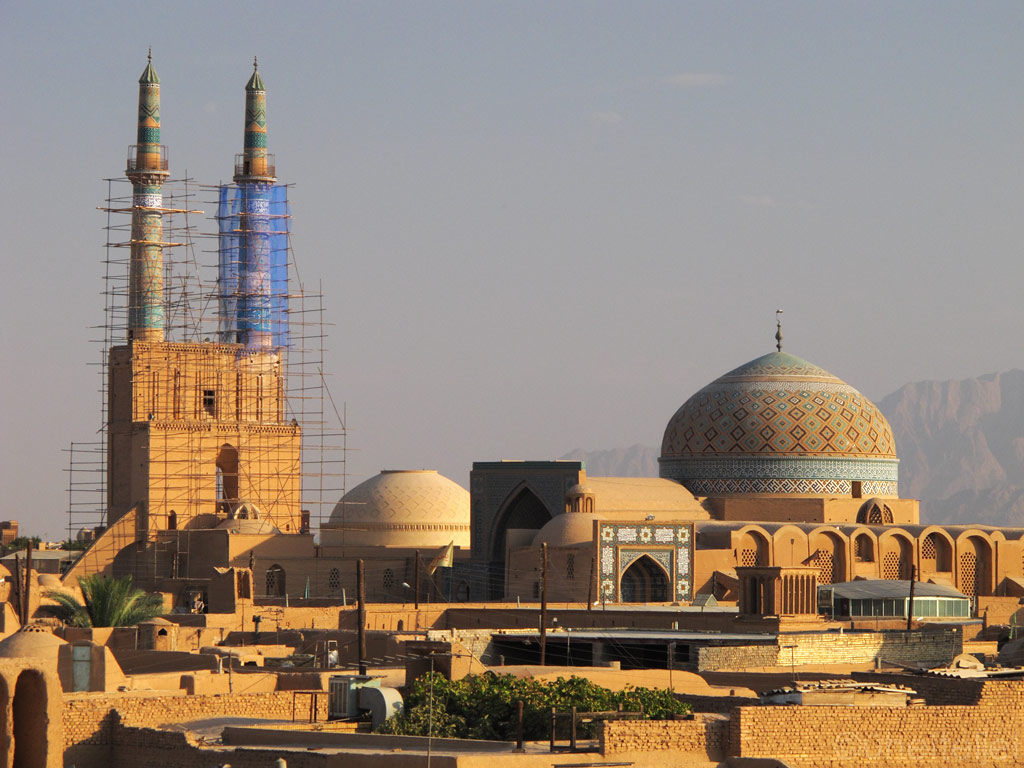 Jameh mosque.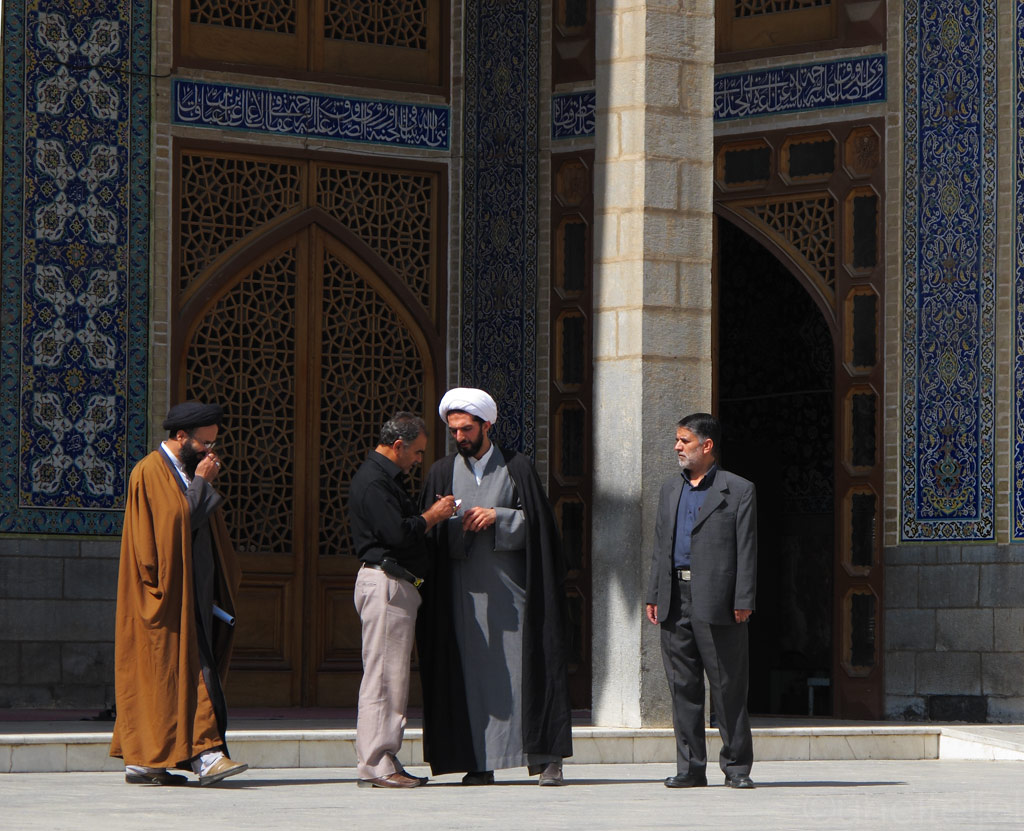 Religion, business and politics go hand-in-hand in (obviously) Islamic Republic of Iran: mullah do their business with other important city figures.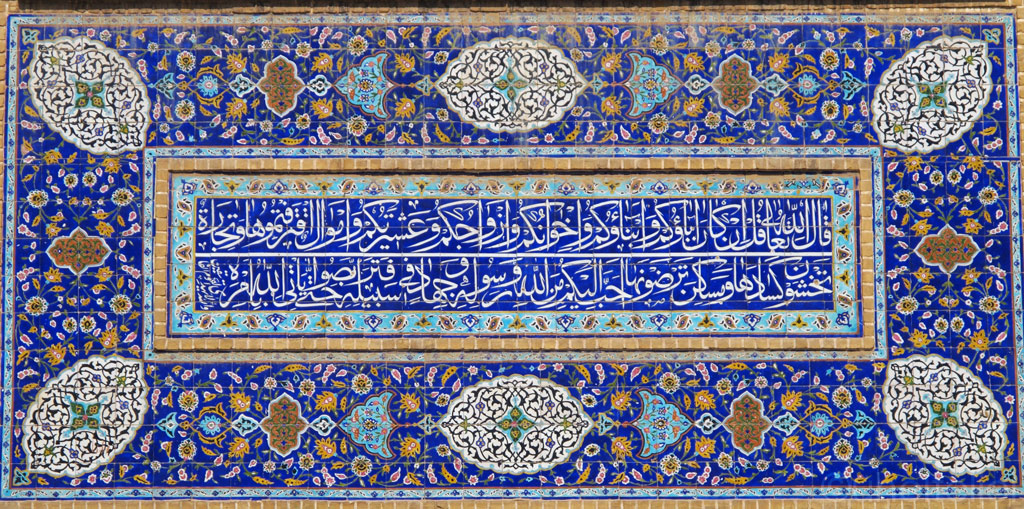 Persian art and poetry reflected in stunning persian architecture - amazing detail, the closer you go the better it gets...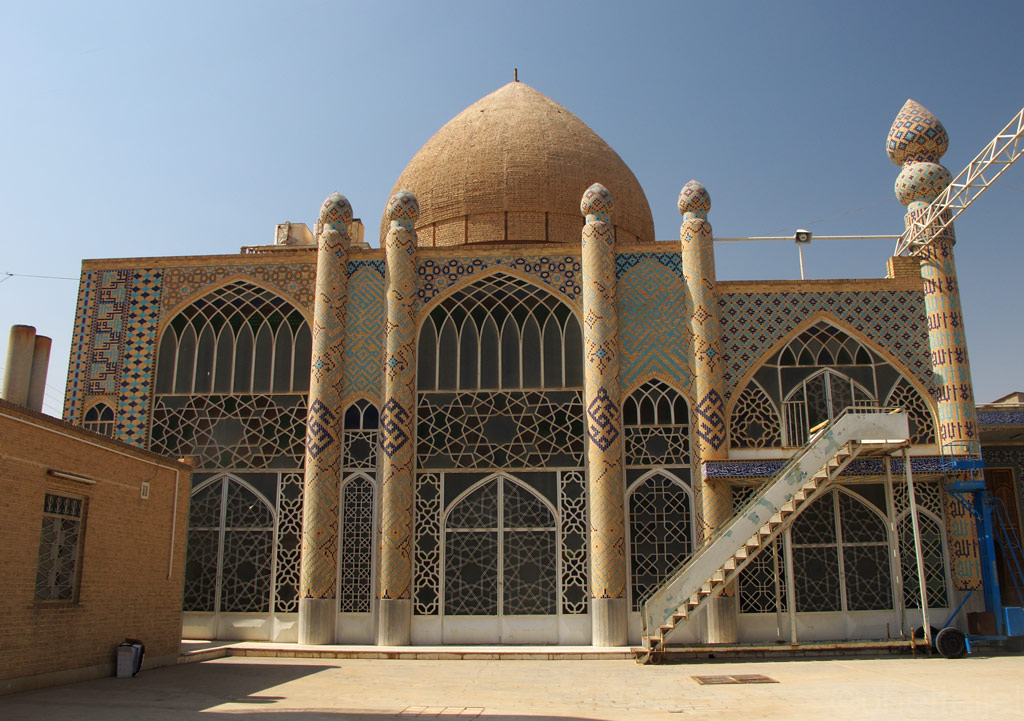 Mosque of Hazireh.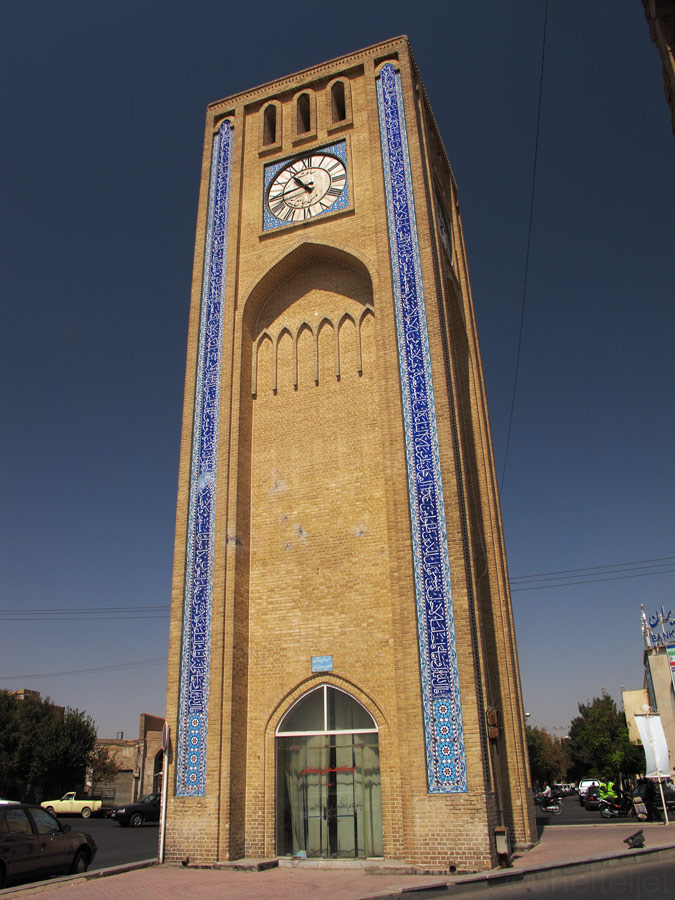 Clocktower in Persian style.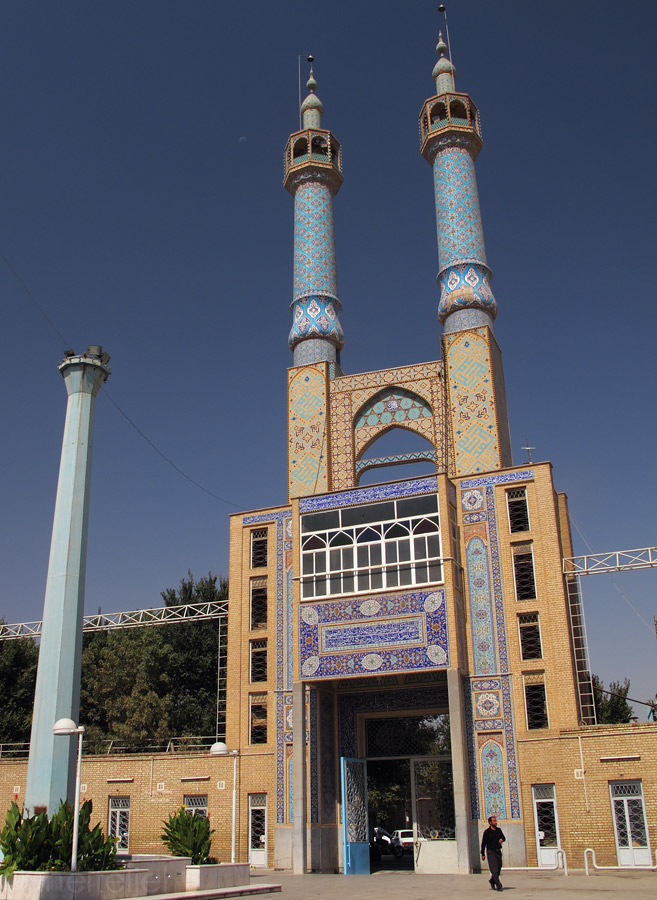 Minarets of Hazireh's gates - minarets are Iran's highest in Yazd.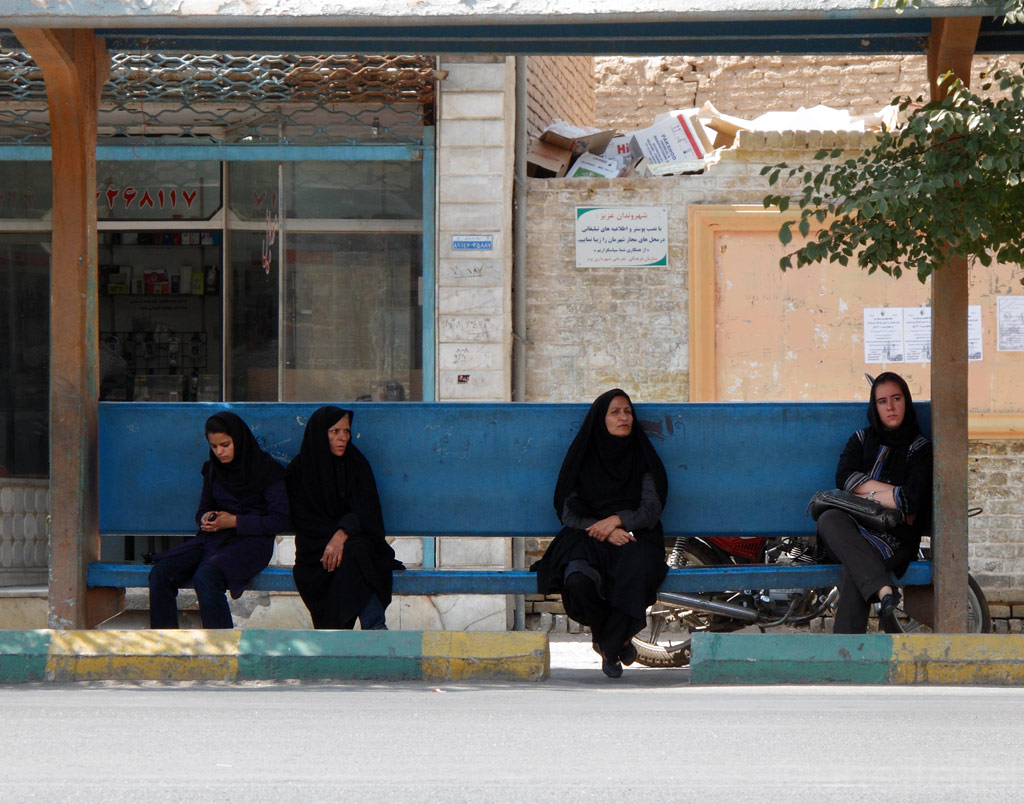 Women all in black in Iran. But at least they roam around the city freely unlike in Pakistan, where women are "locked" at home and you never see one.
One day happened to be the death anniversary of the first Imam. We were browsing the streets just before sunset in order to get a good vantage point of the sun setting over the roofs of Yazd as we heard someone singing. It sounded sad but beautiful. We rushed towards the sound, and in a couple of steps we came across a small mosque, with black flags at the entrance. In the mosque, there was only one man - the mullah - and he was singing. In solitude.
.:: LISTEN ::.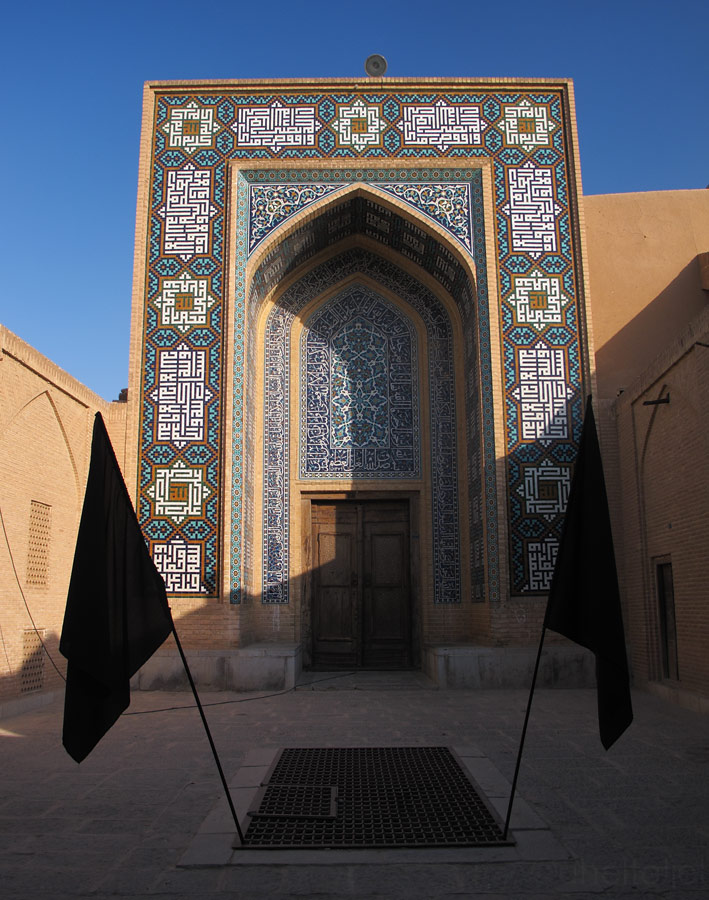 One of the portals of Jameh mosque.
A couple of days later we went to see the practice of ancient Persian martial arts which take place in a zurkhaneh, meaning "house of strength". We had seen it five years ago, and it had left us a powerful impression. It is actually not just about sports. It already developed in the pre-Islamic times, but its contemporary form also incorporates religion, so while the athletes do their exercise (including spinning around like dervishes), musicians set the pace with their drums and recitals of poetry. Something unique.
Zurkhaneh training in live sound:
.::: LISTEN :::.
Zurkhaneh training.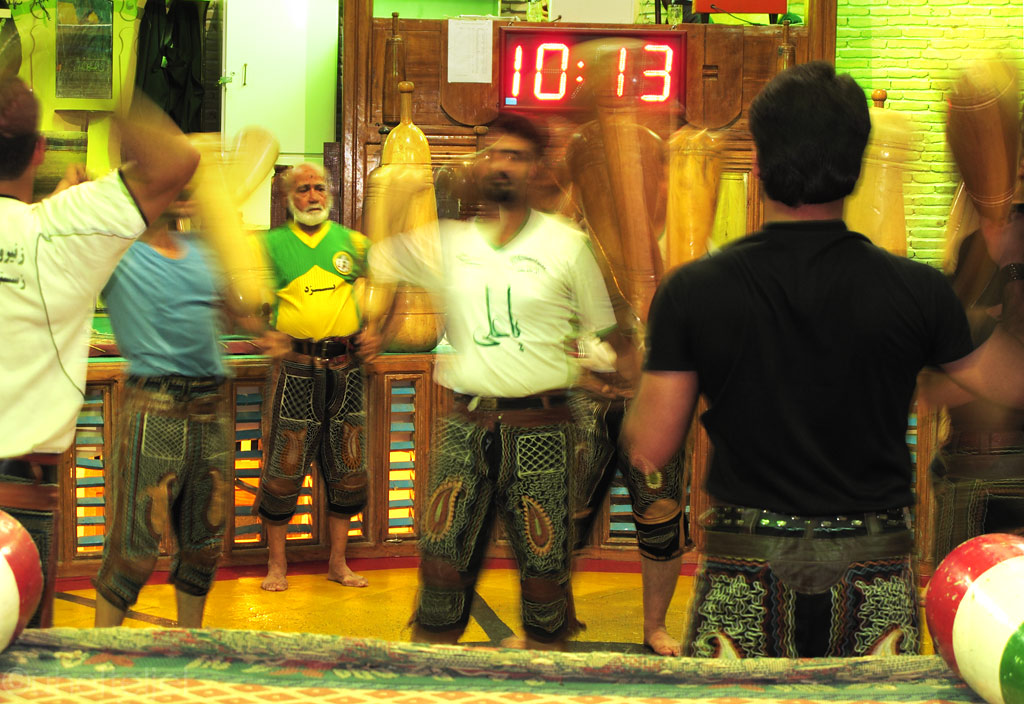 Ancient Persian martial arts.
From Yazd we headed towards Esfahan, but made a stop somewhere in between, because according to many, there is a guy called Mohammad living in what is a rather unremarkable desert village in Toudeshk. Of course, there have to be many Mohammads living in that village as Mohammad is a very common name here in Iran, but this particular Mohammad is known for his interest in travellers, so he is willing to show them the local way of life. It sounded interesting.
We ended up staying two nights with the family of Mohammad's brother Reza, and although it was not quite the same as with spontaneous meetings, it was still a rewarding experience to get a close-up of the village and family life.
We slept and ate on the floor, which is where all the social interactions take place. Iranians are very social people, and definitely when it comes to the family. Mohammad's and Reza's parents came to check up on them every day, as well as their sister. We also got to meet Fatima's (wife of Reza) sisters.
We were shown the process of carpet weaving, and we also got to see the nearby villages and sand dunes which were truly impressive - it's a real pity the bike is broken to properly ride them.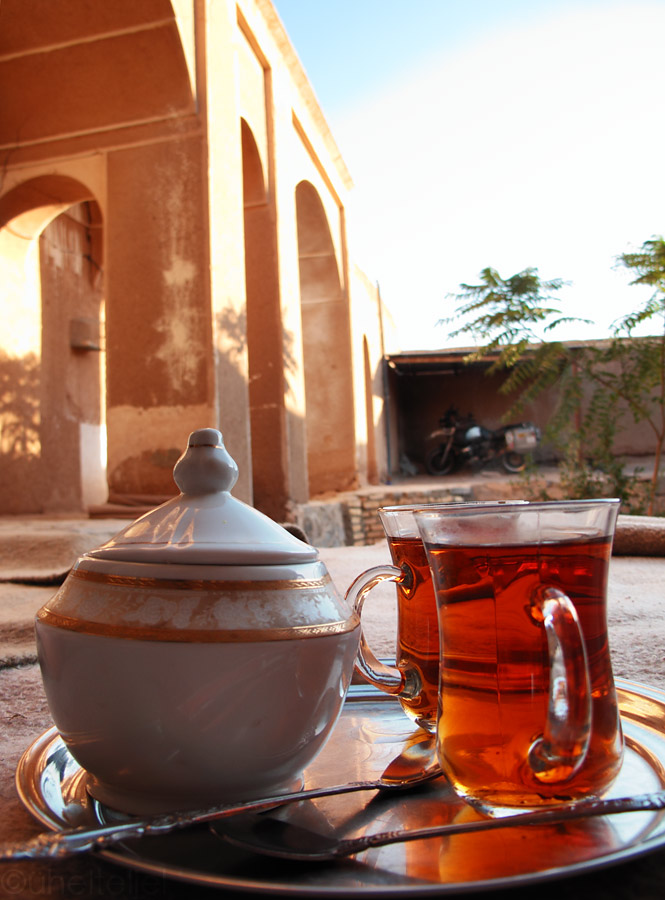 A beautiful morning in Iran.
Sound recording from mullah's singing reflected off muddy walls of the desert village:
..:: LISTEN ::..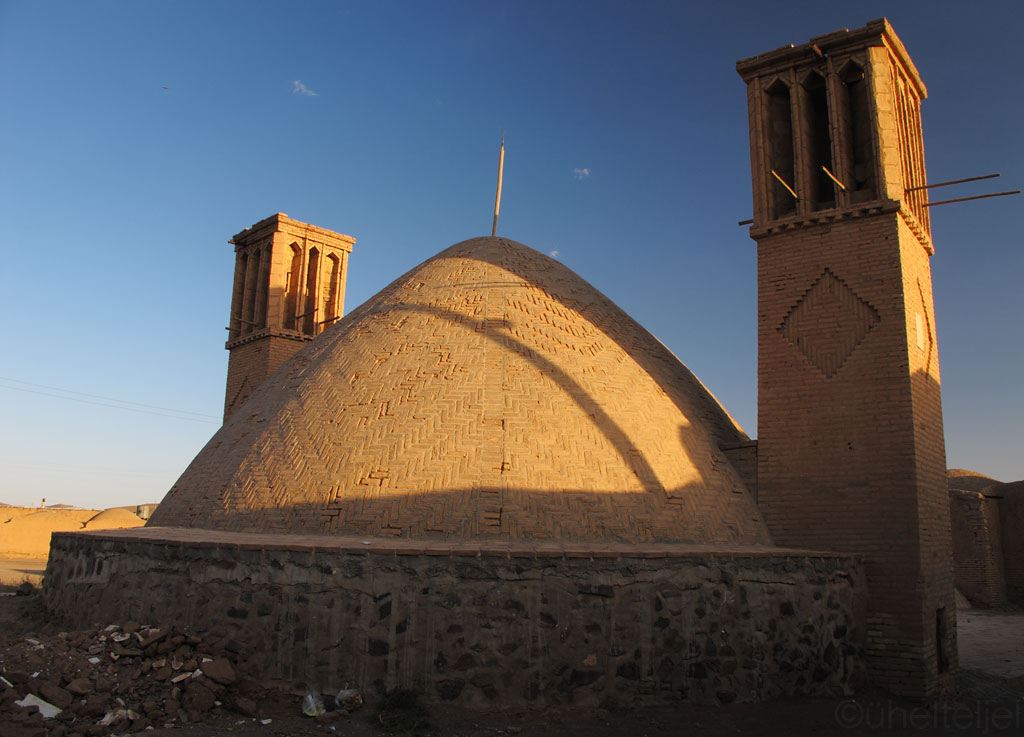 Water reservoir - a fundamentally important part of a desert village. Without a spring and this, there would be no life.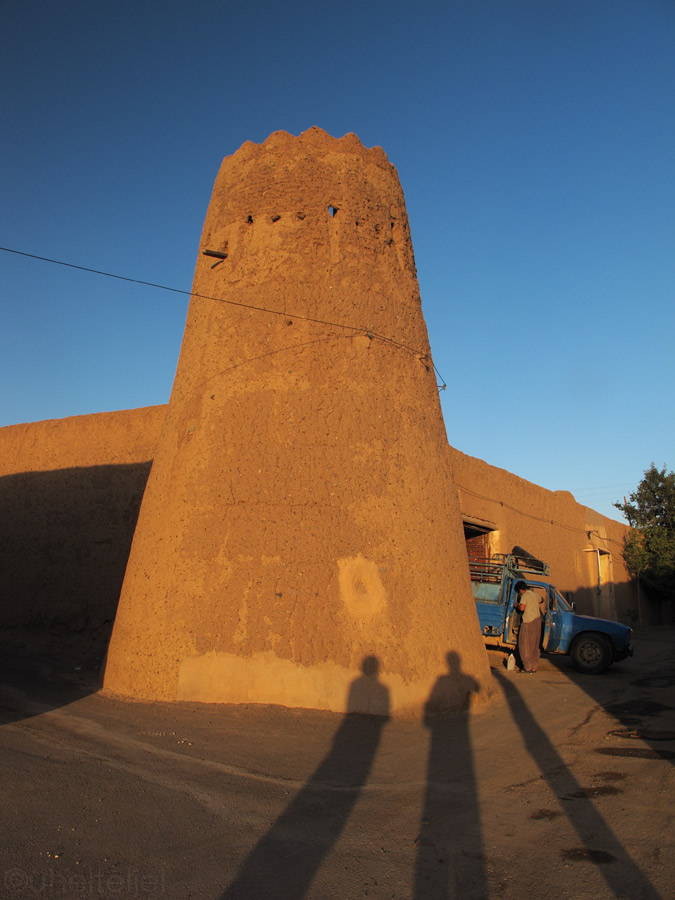 Watchtower - used to be for detecting enemy and thieves in the village.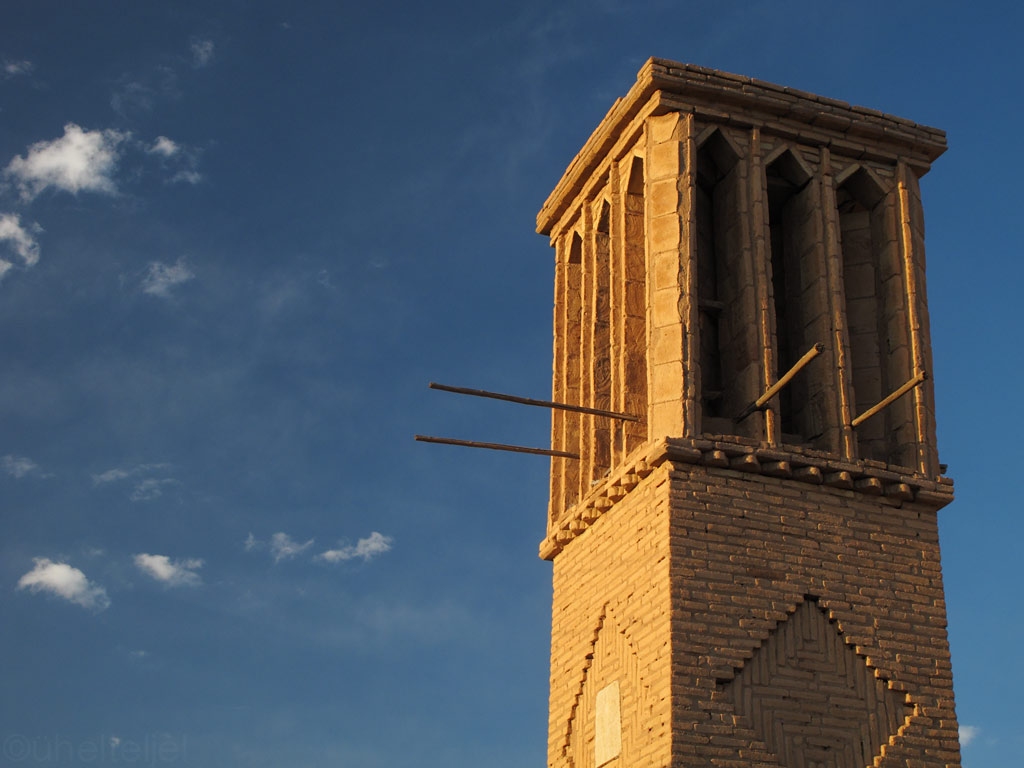 Wind tower for cooling the water reservoir.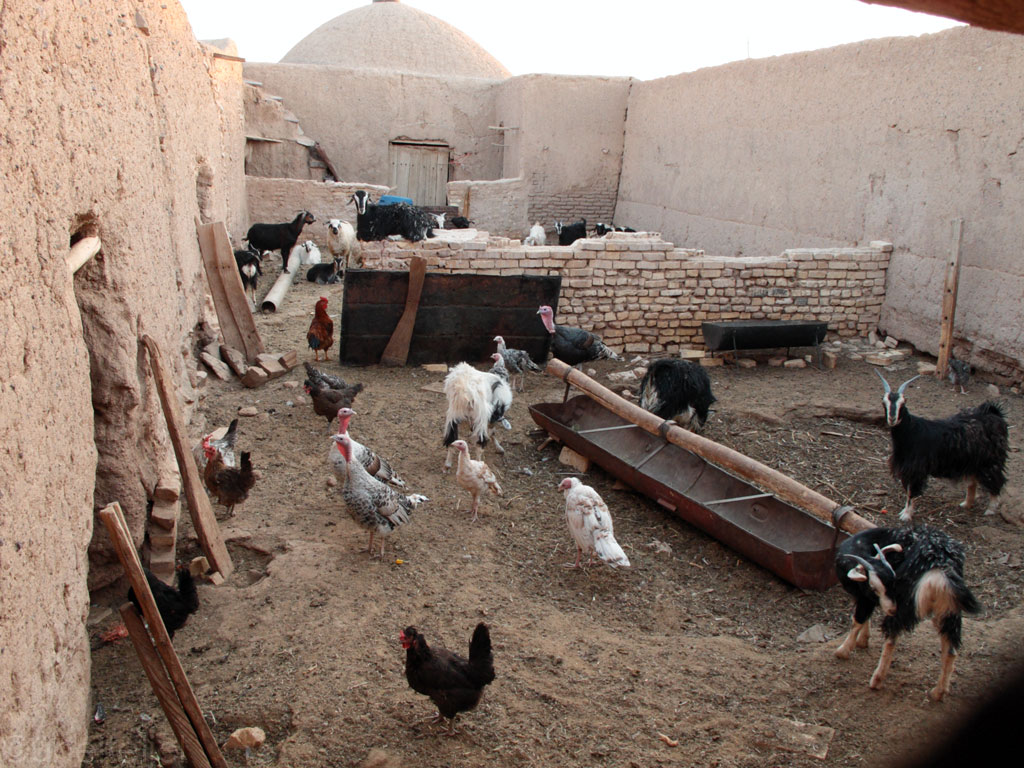 Backyard of an Iranian household - this is where all that good iranian food comes from.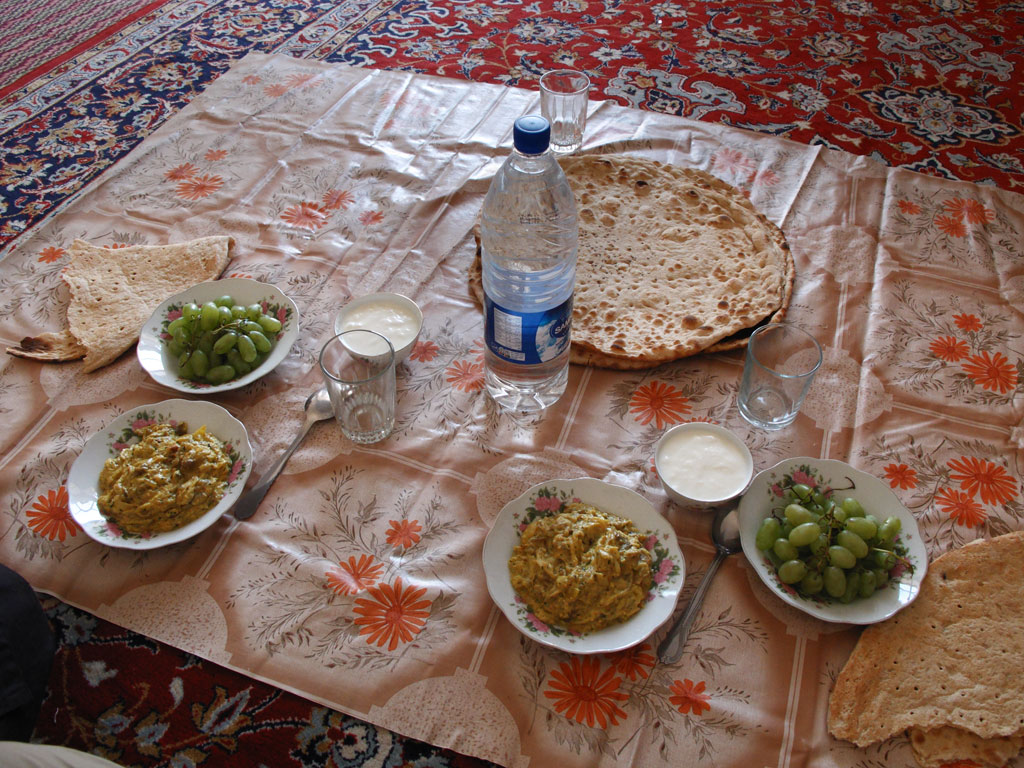 Iranian food is simple but VERY good.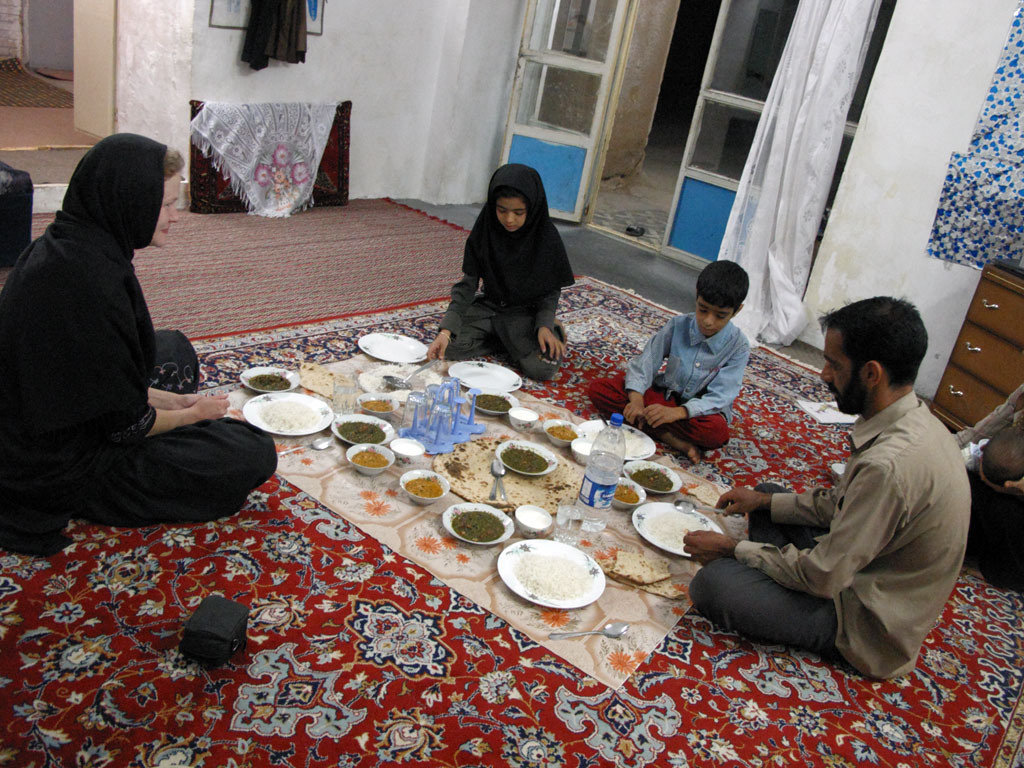 Dinner with familiy.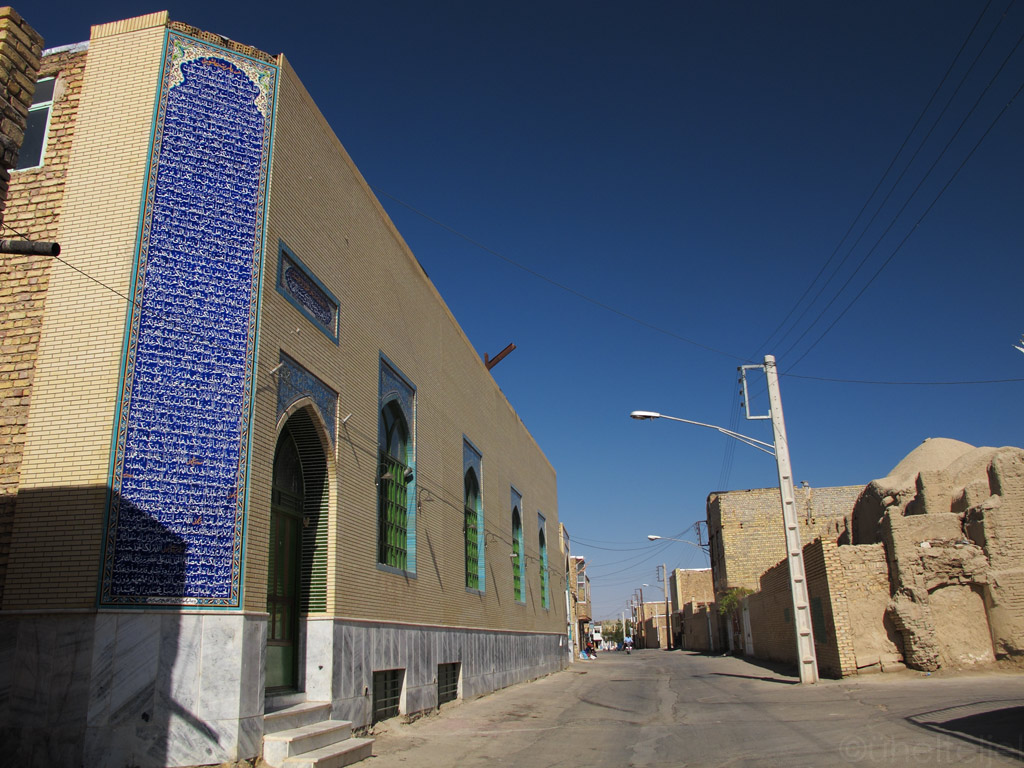 Street in Iranian desert village - on the house there're written verses of Koran.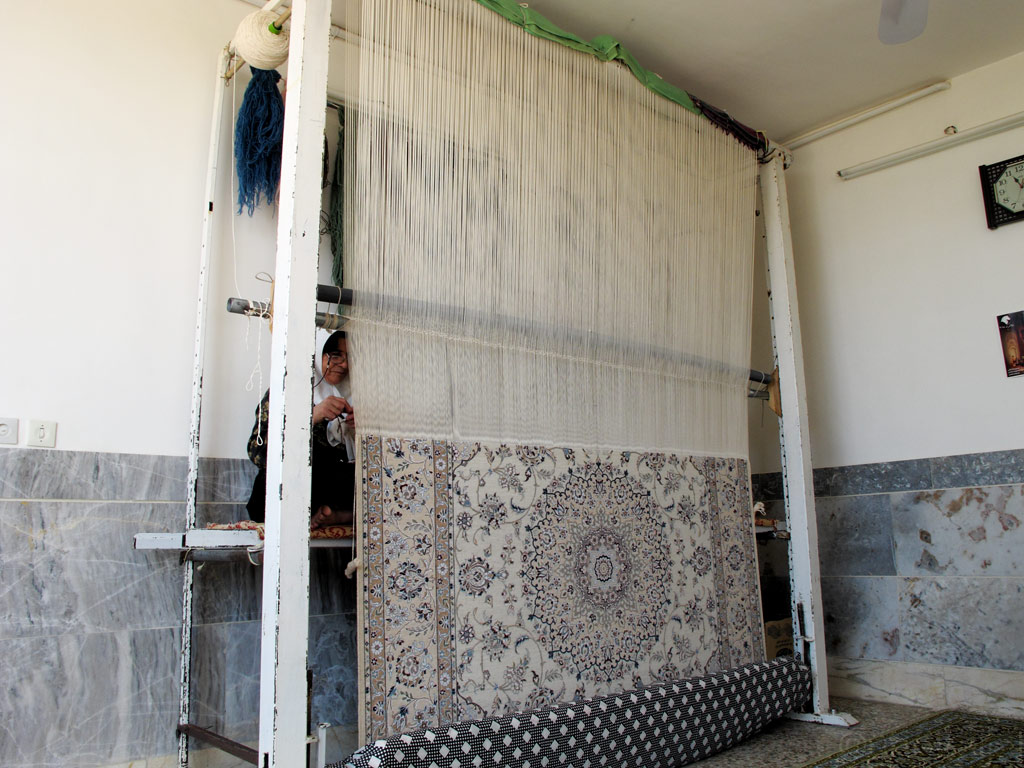 Carpet weaving - this carpet will take 1 year (!!!) to make.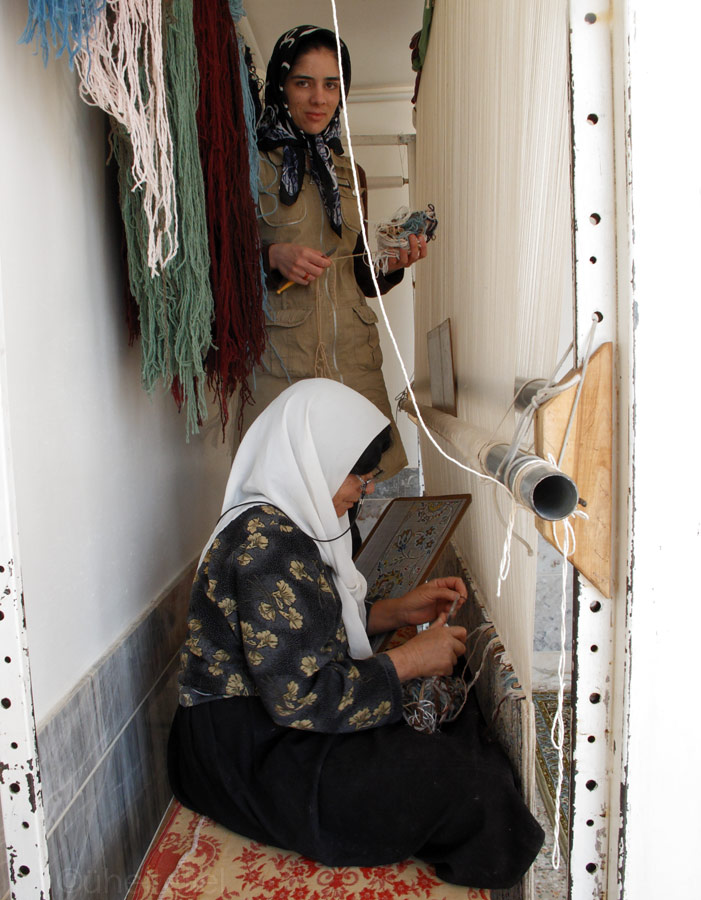 Other side is where the women do their delicate work - complex Persian patterns.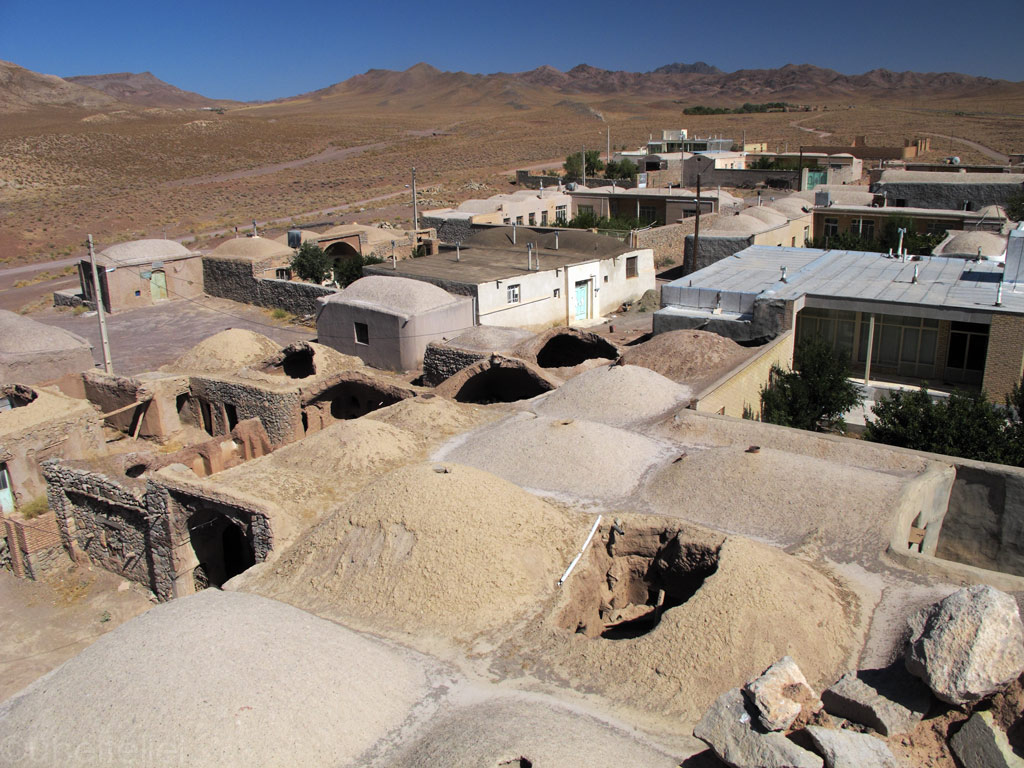 Typical Iranian desert village.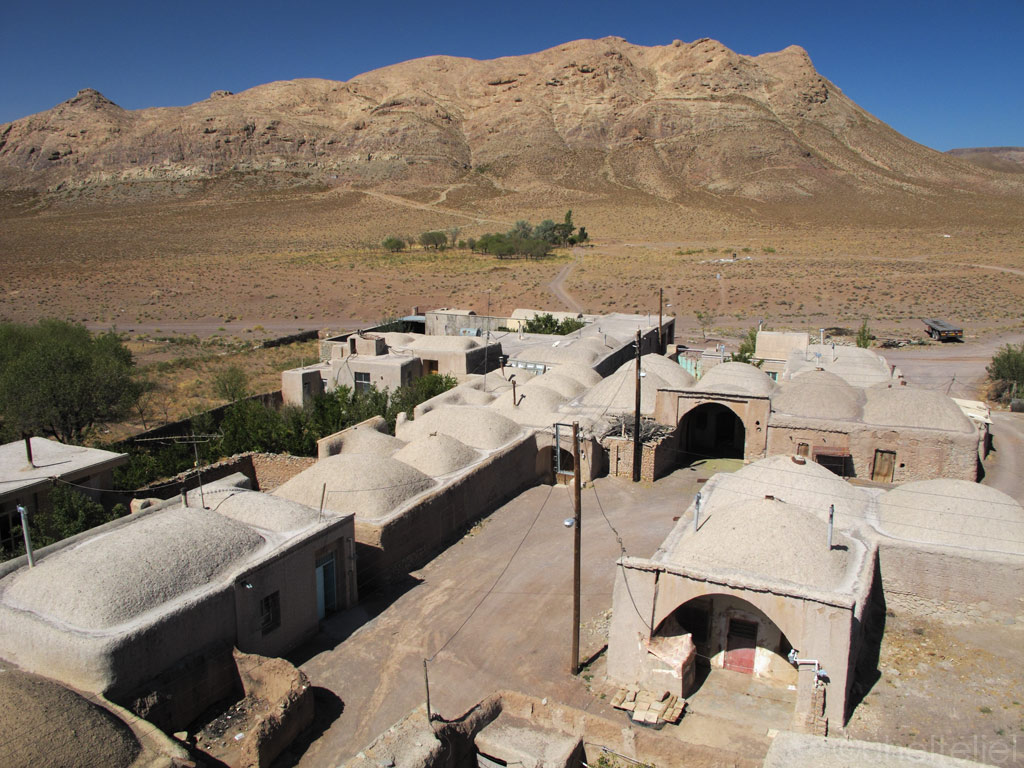 They have interesting roofs - spheres, but it's for a reason in this climate - one side is almost always in the shadow while other sunlit, contrasts of hot-and-cold air making the air in the building to move.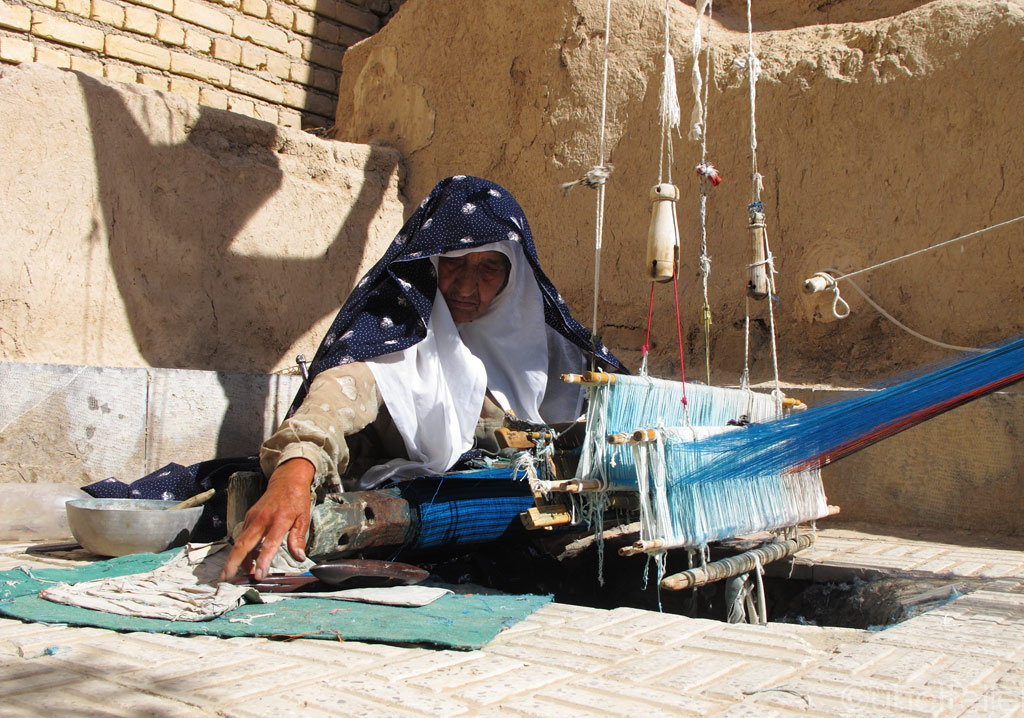 Old woman weaving textile in the village - no mechanized factory work here.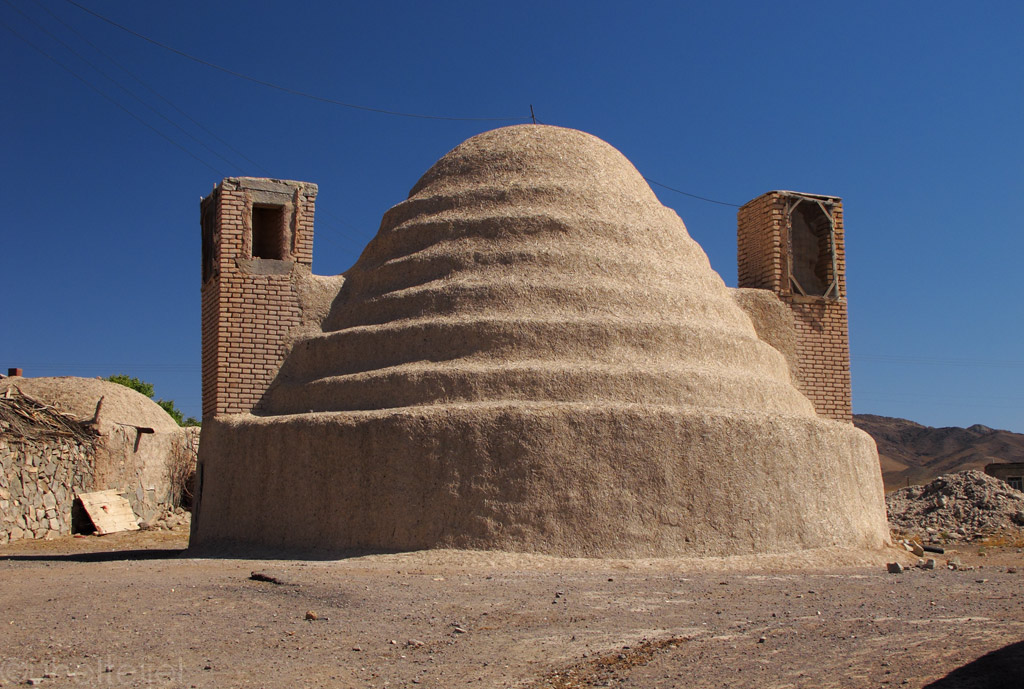 Water reservoir in a small village.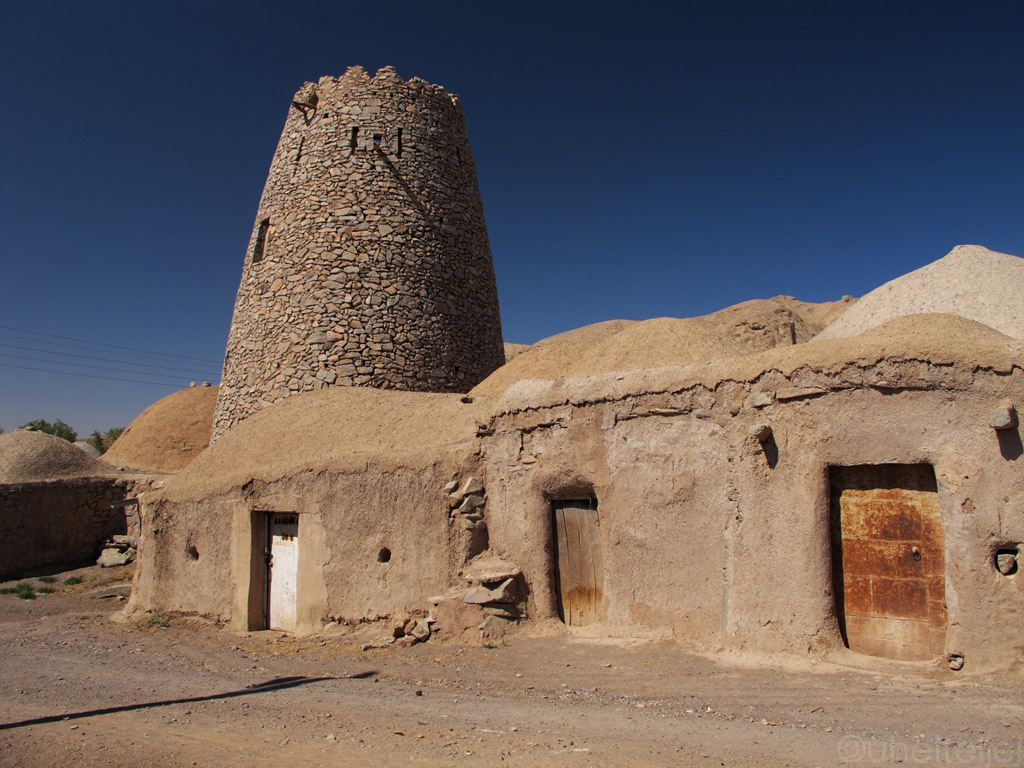 Iranian village.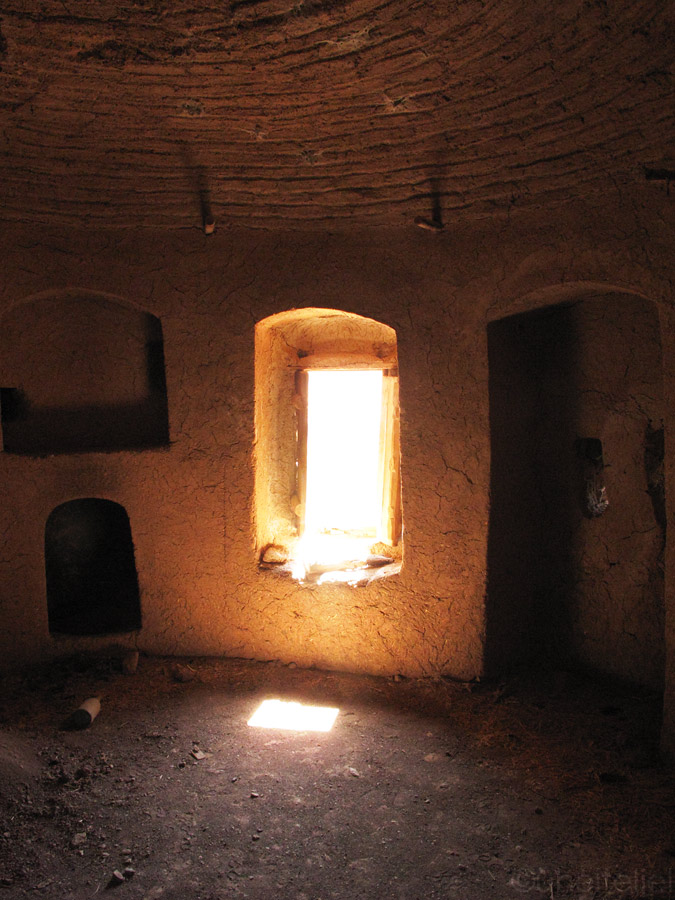 Inside the watchtower.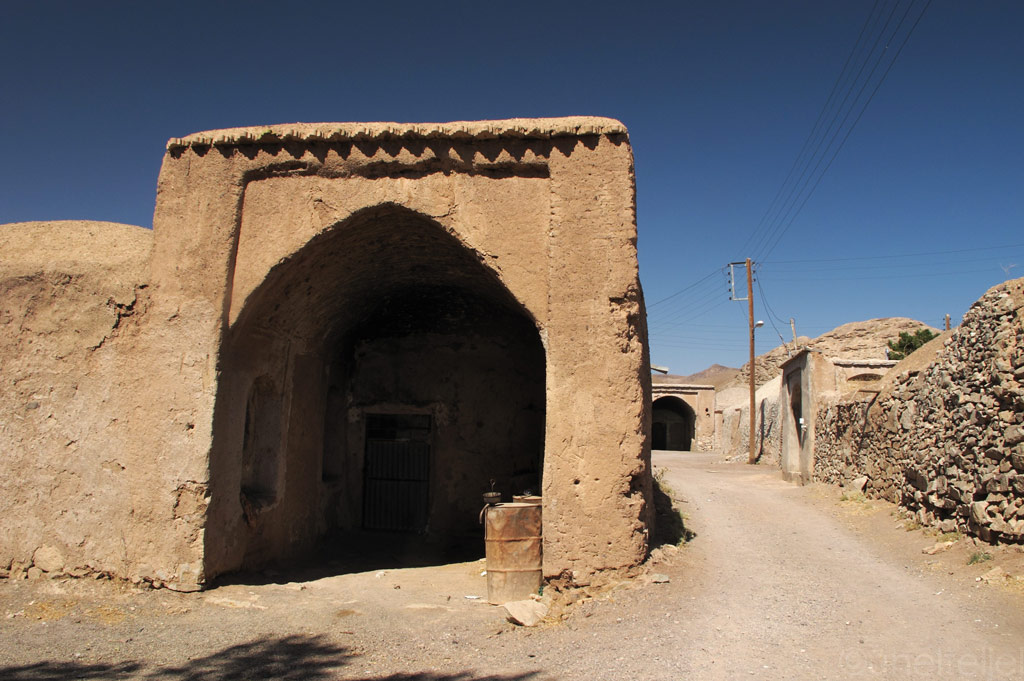 Street.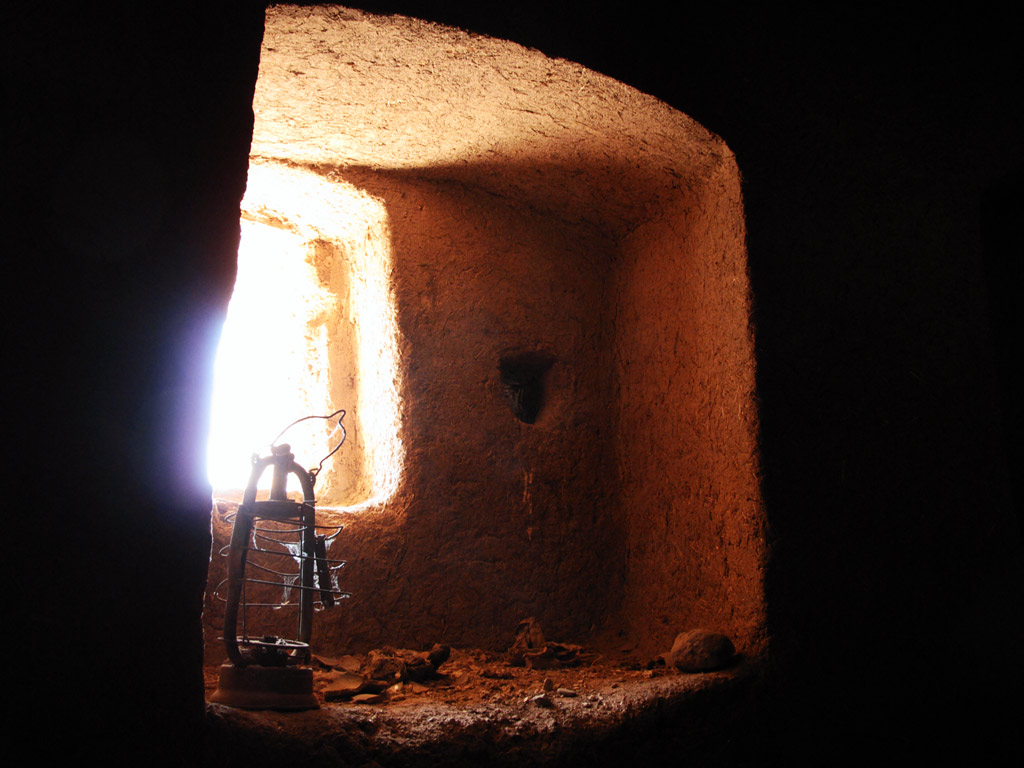 Abandoned room.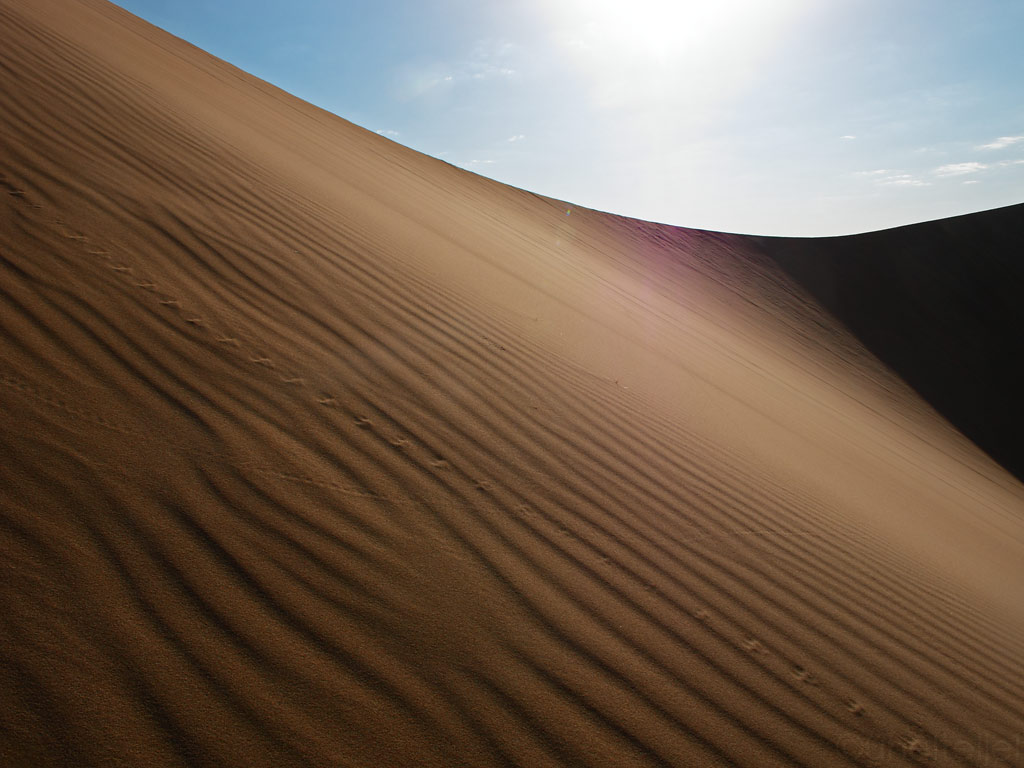 Sand dunes in Iran.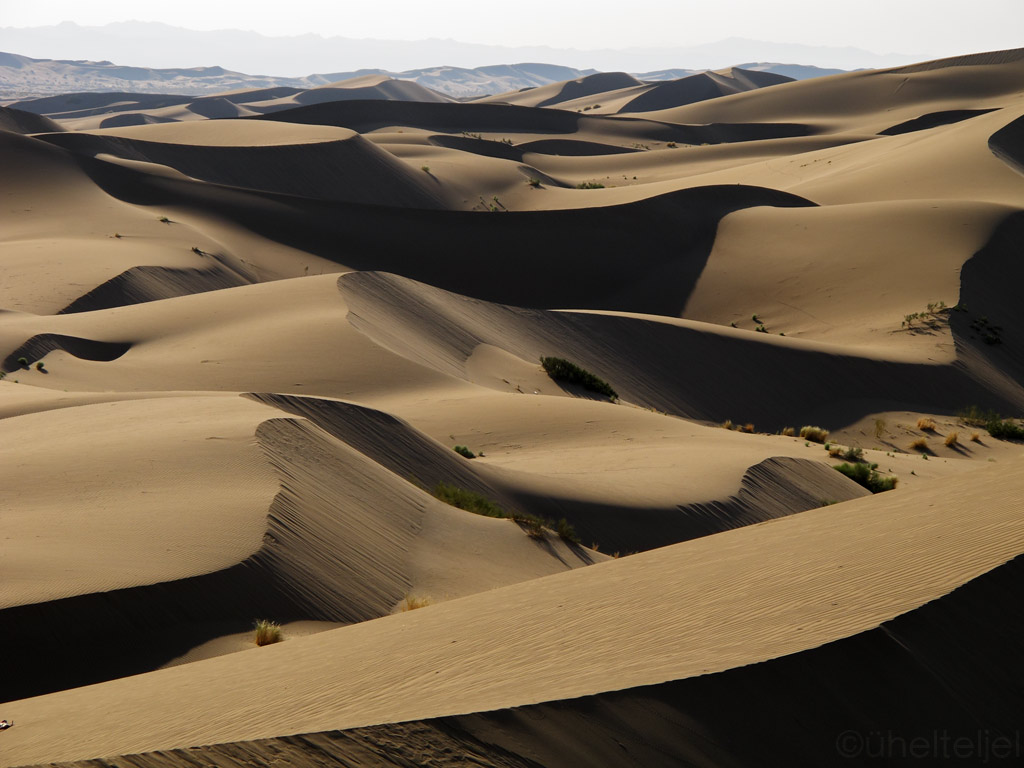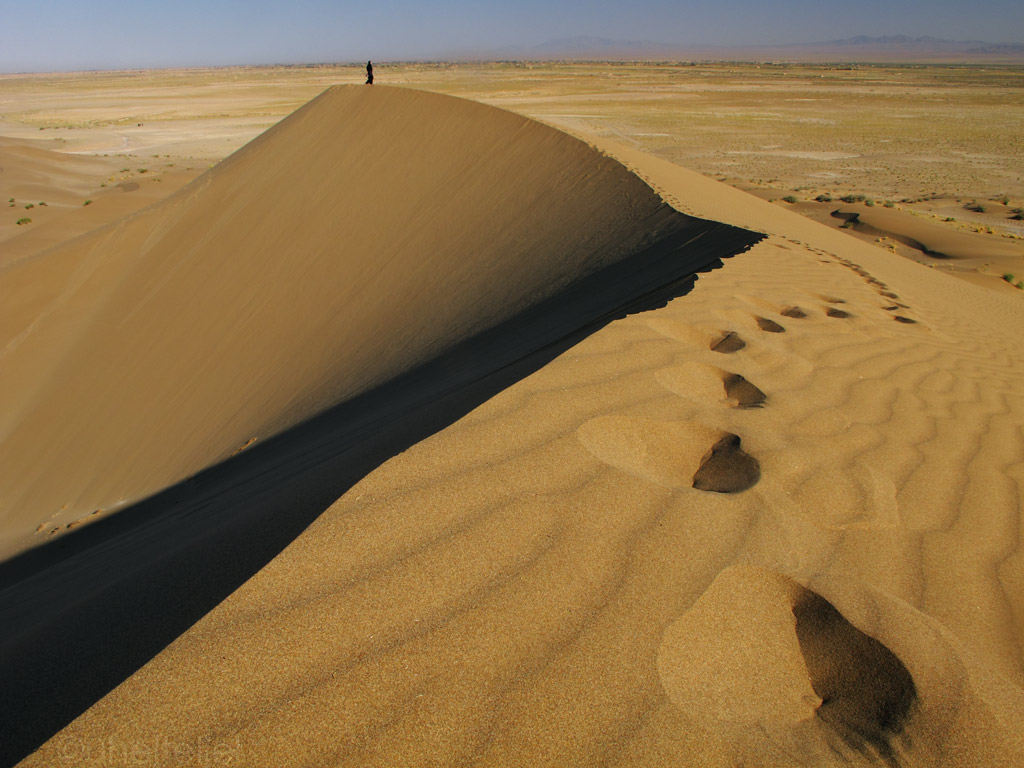 They're really high at some spots.

Panorama from the sand dunes (click to enlarge)
Esfahan... Does it not sound somewhat elegant, not to say unearhly? It was already last time we were here that we fell in love with this city, and this time it was no different. It really is a "good old" city, even if many of the smoky places serving kabab have been replaced by trendy burger joints, and bleached hair has almost become a standard in the Iranian youth. It still is an ancient and enticing city with gracious mosques and fine bridges dating from the 17th century. They just do not cease to amaze, be it from the distance or close up.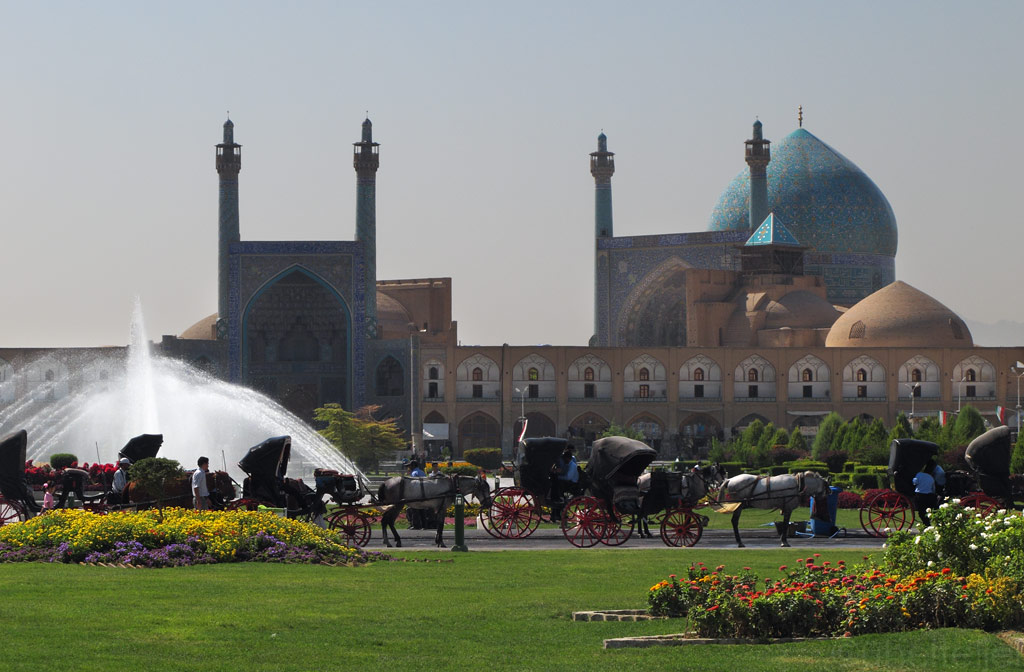 Imam square in Esfahan.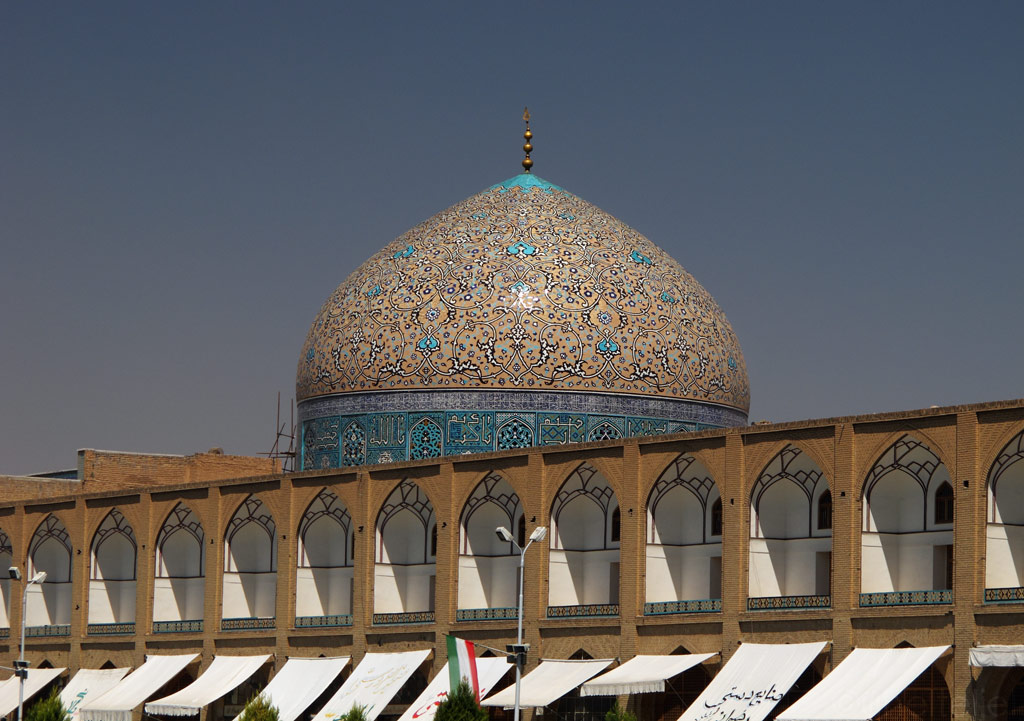 Sheikh Lotfollah' mosque.
With such a fine detail it is no wonder it took almost 20 years to complete the wonderful Imam Mosque.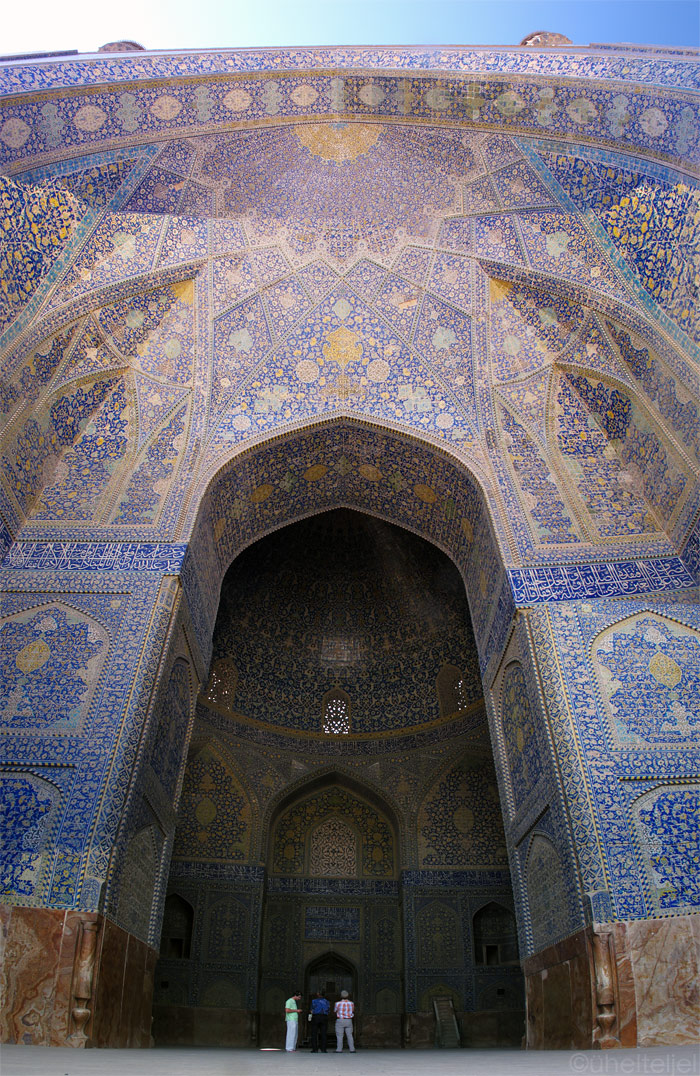 Check the size, architecture and detail.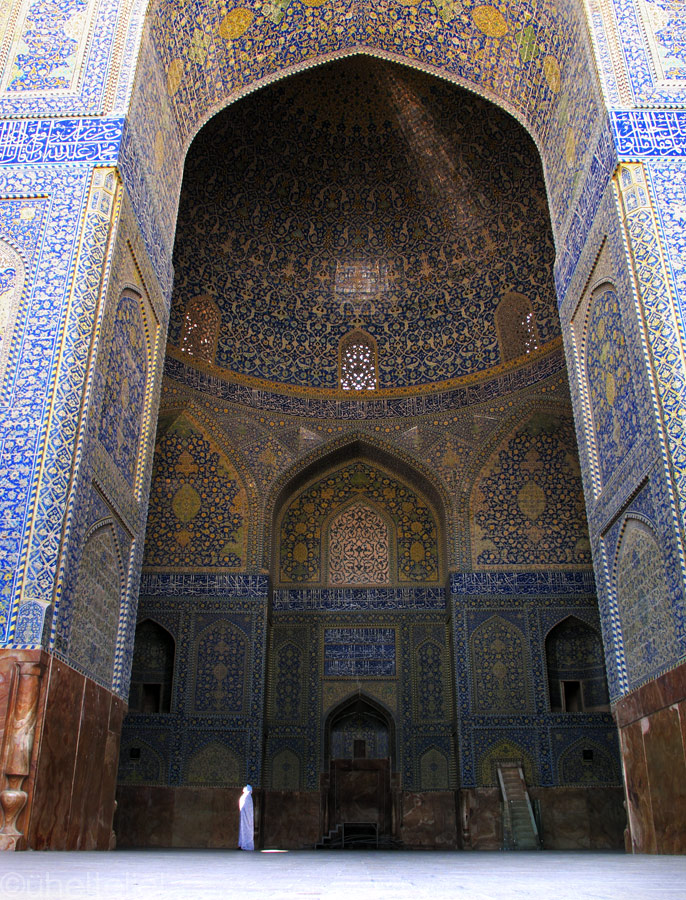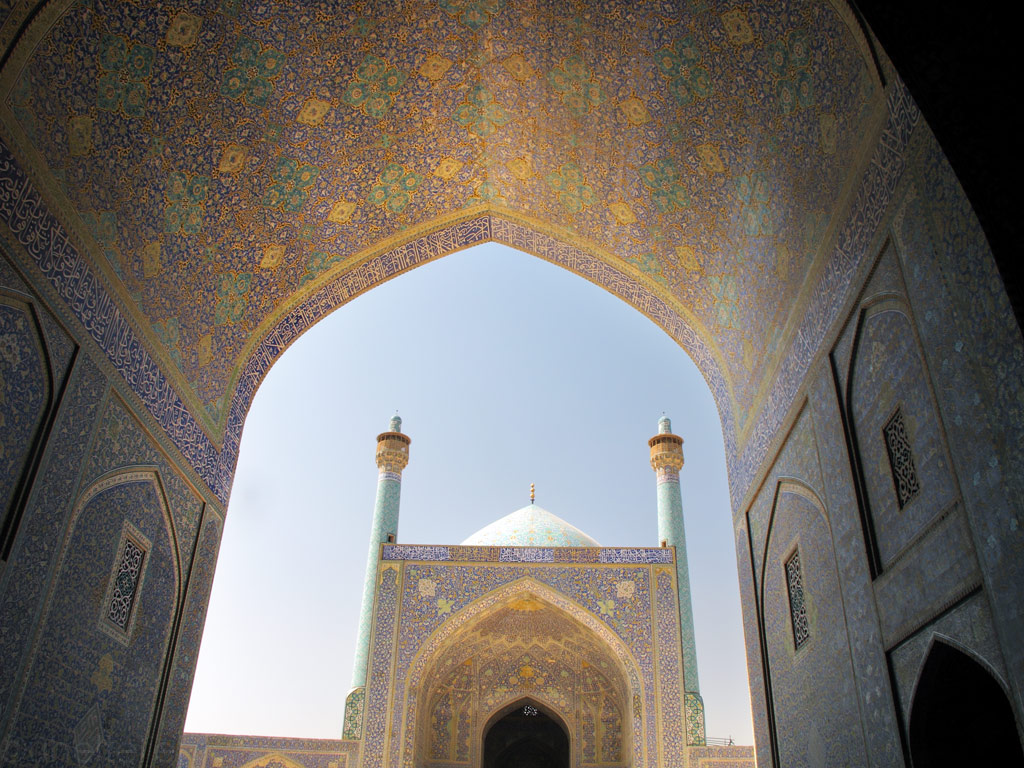 Persian art in its finest...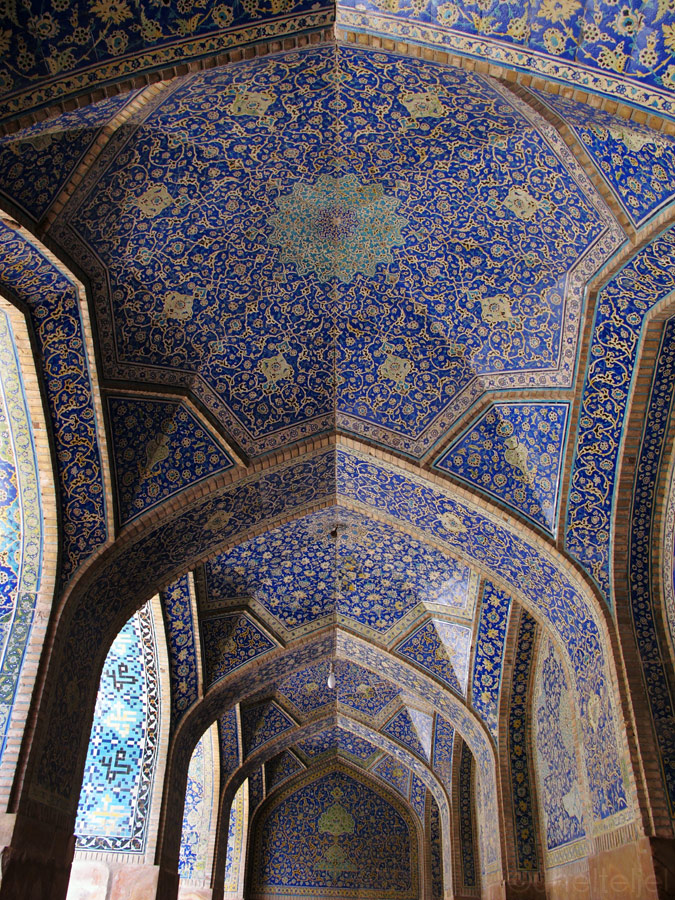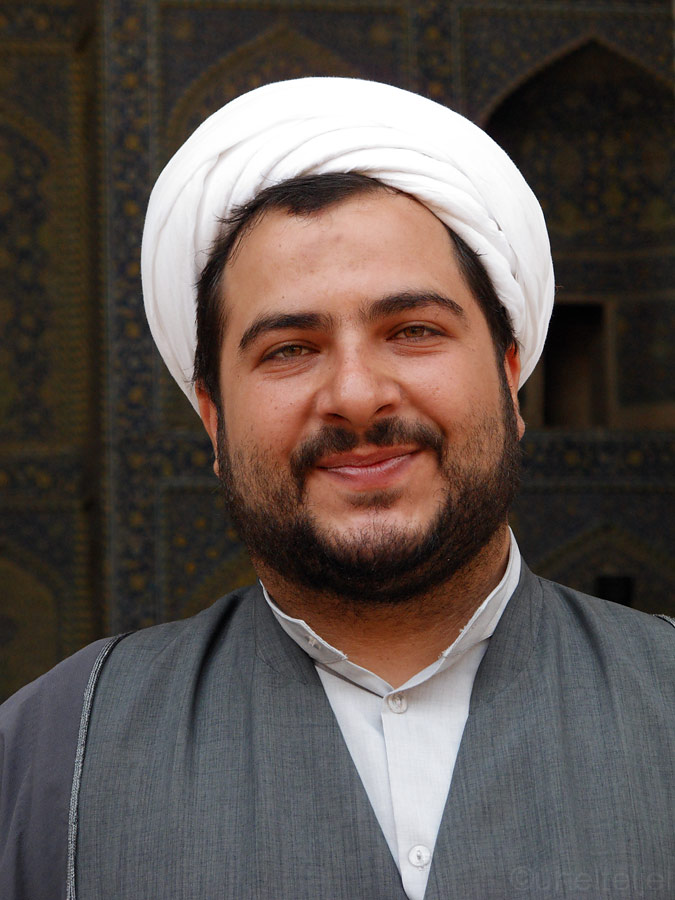 Mullah in Esfahan.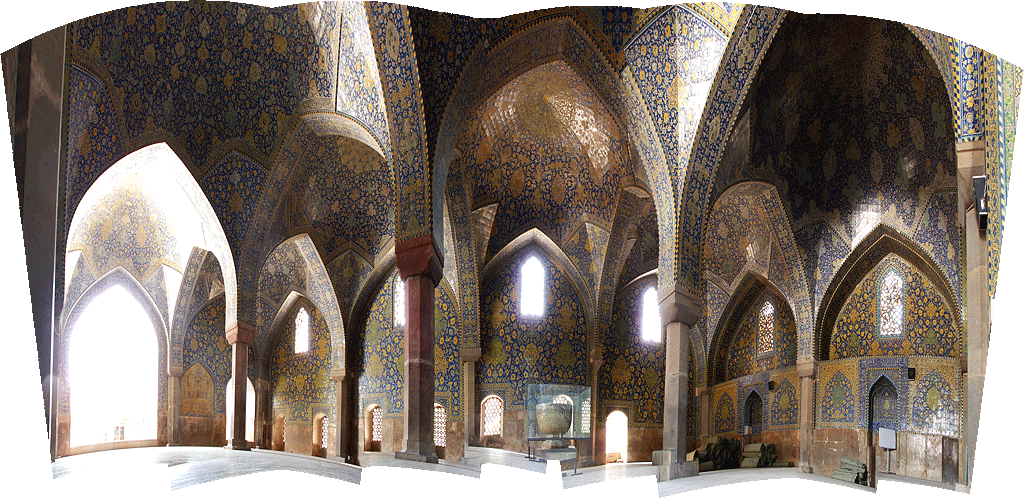 Inside Imam mosque (click to enlarge).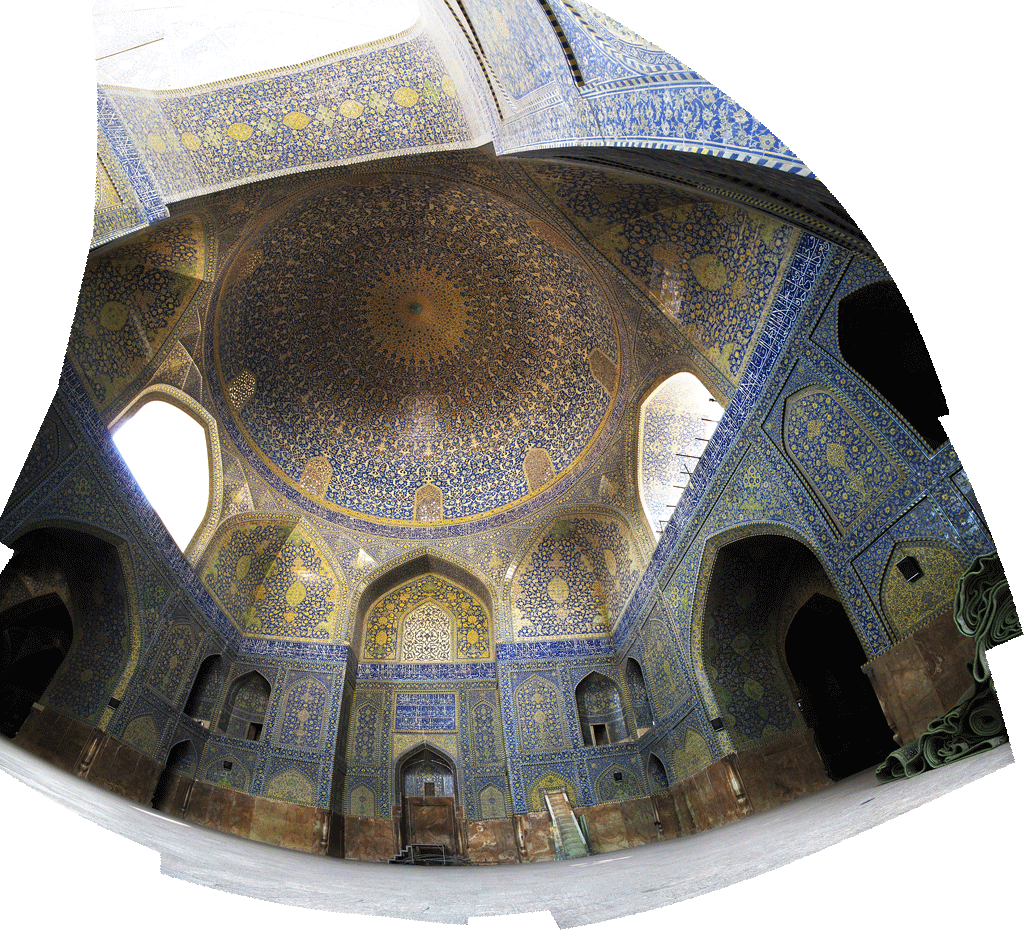 Below the main dome - picture doesn't even give a sign how huge it actually is.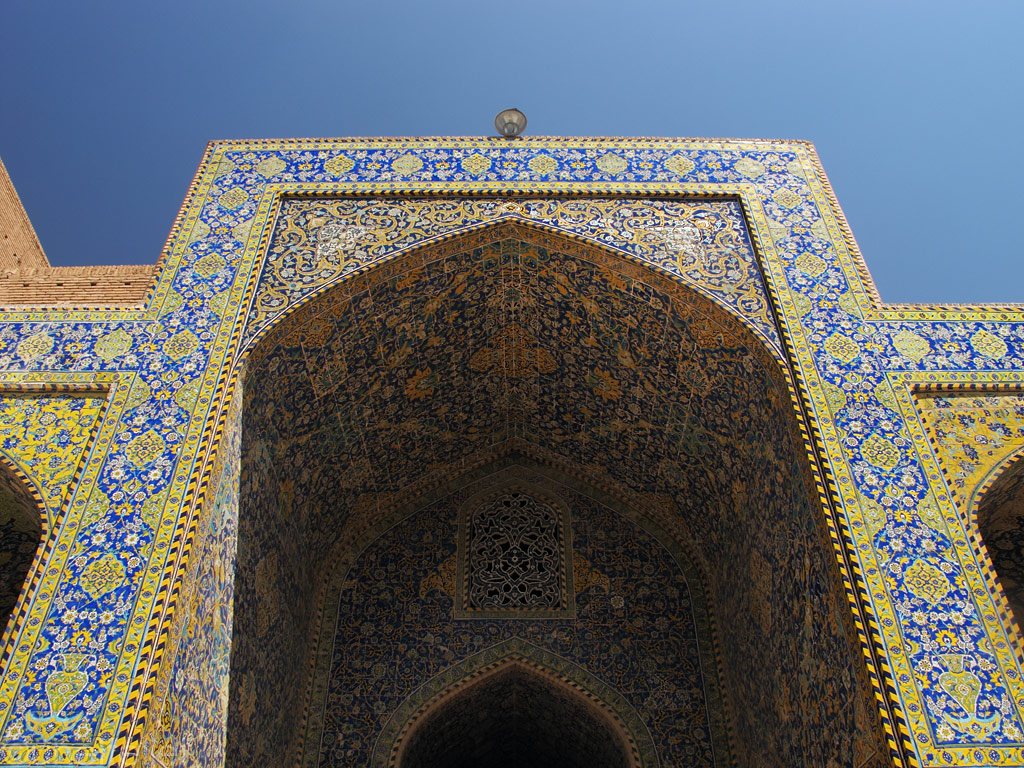 One of the portals.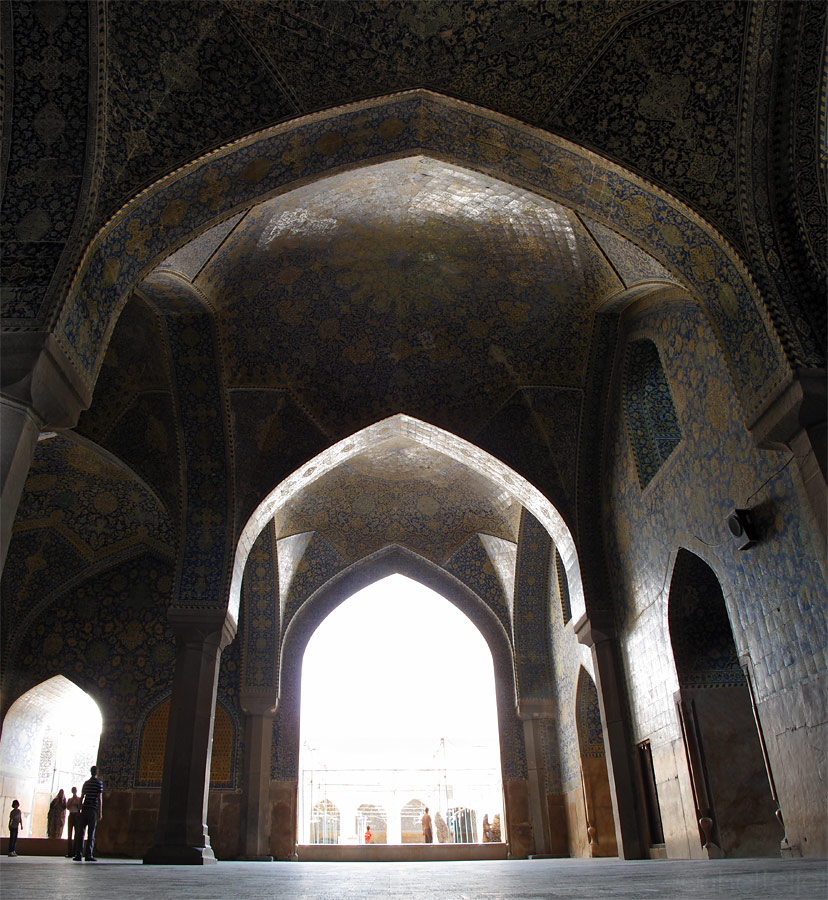 Inside Imam mosque.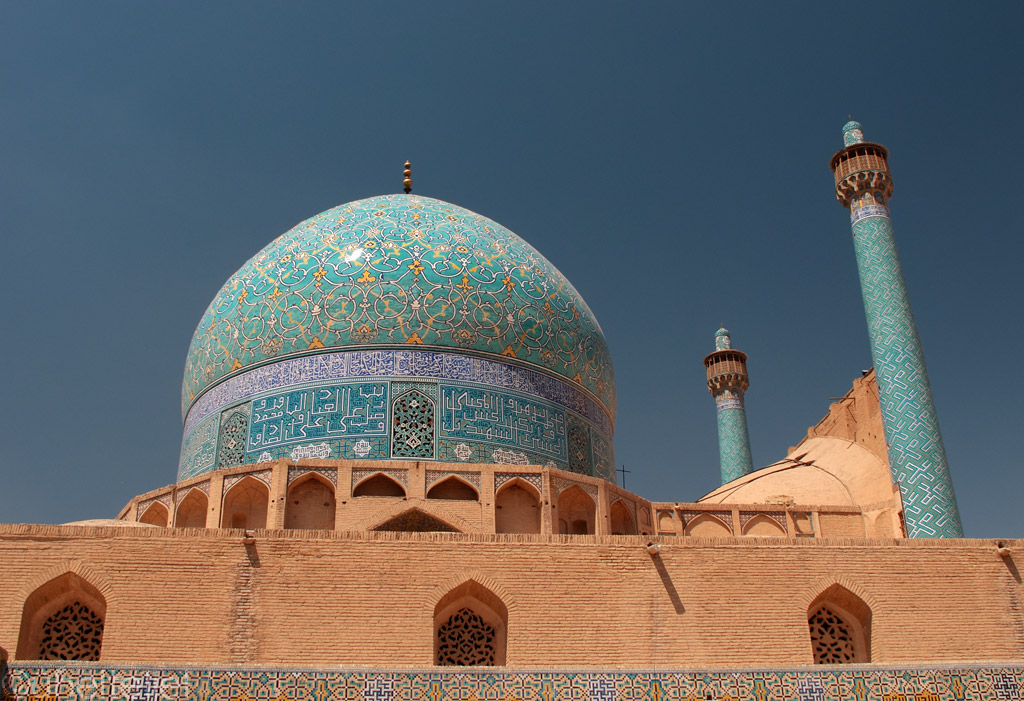 Imam mosque's dome outside.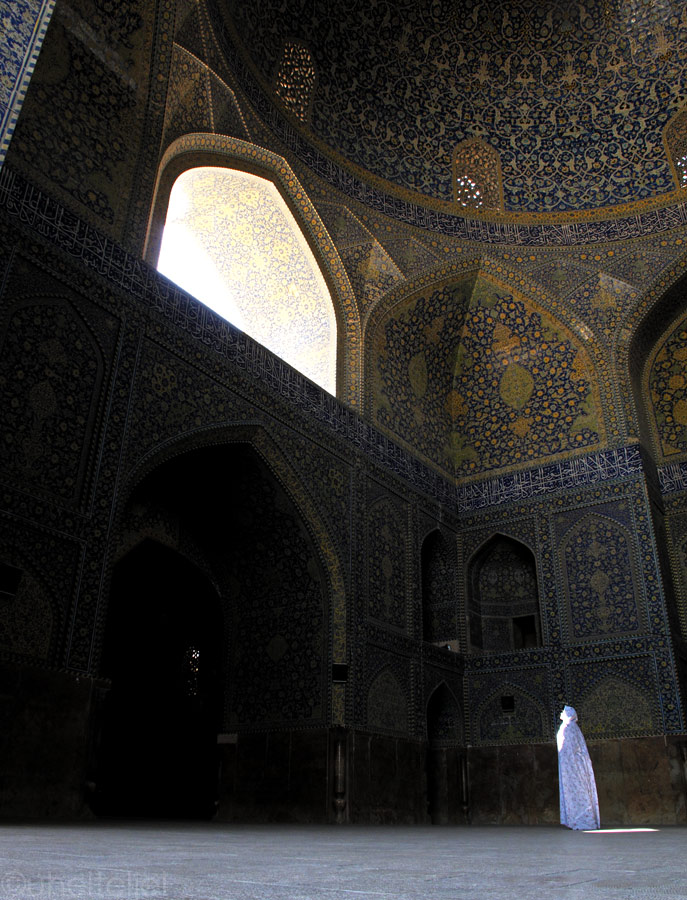 Kariina is lit by the Allah's enlightment?
The main dome has double layer structure, so the scientists have measured up to 49 echoes (of which only some 12 are audible to a human ear). Here's Koran recital recorded from under the dome:
.:: LISTEN ::.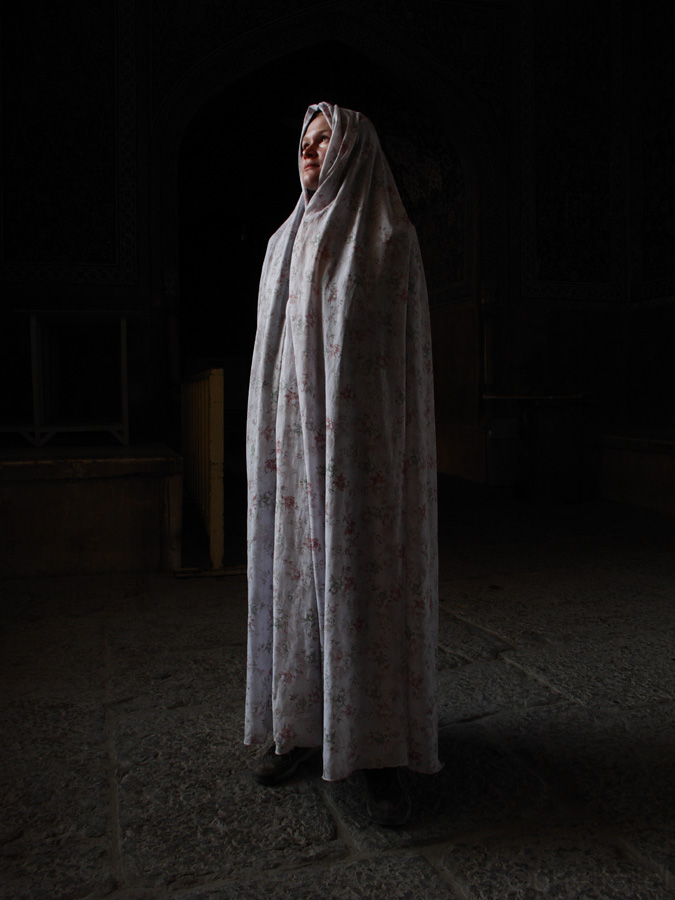 Of course, Kariina was only allowed in wearing the chador, covering her from head to toe.
Arguably the biggest mosque in Iran, the Jameh Mosque also left us a great impression. Since it has been around for some thousand years now, its design has been influenced by different architectural styles in different ages.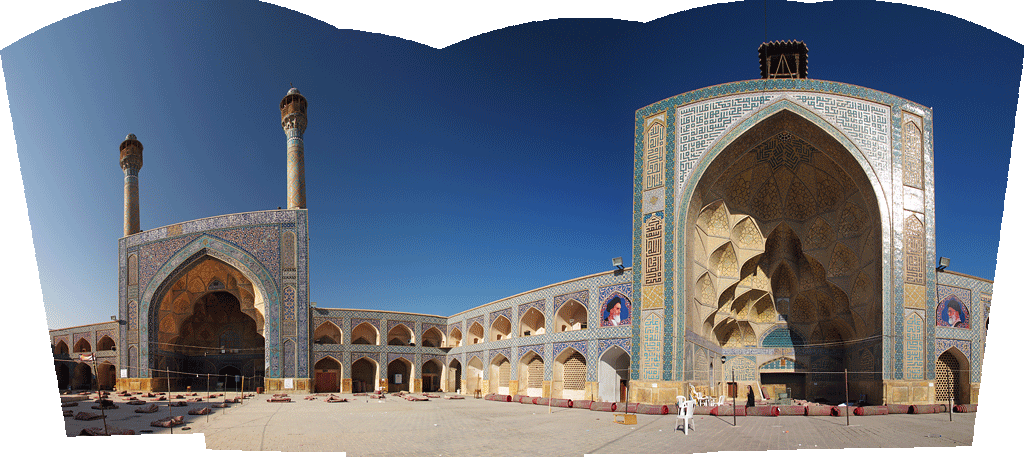 Panorama from the Jameh mosque (click to enlarge)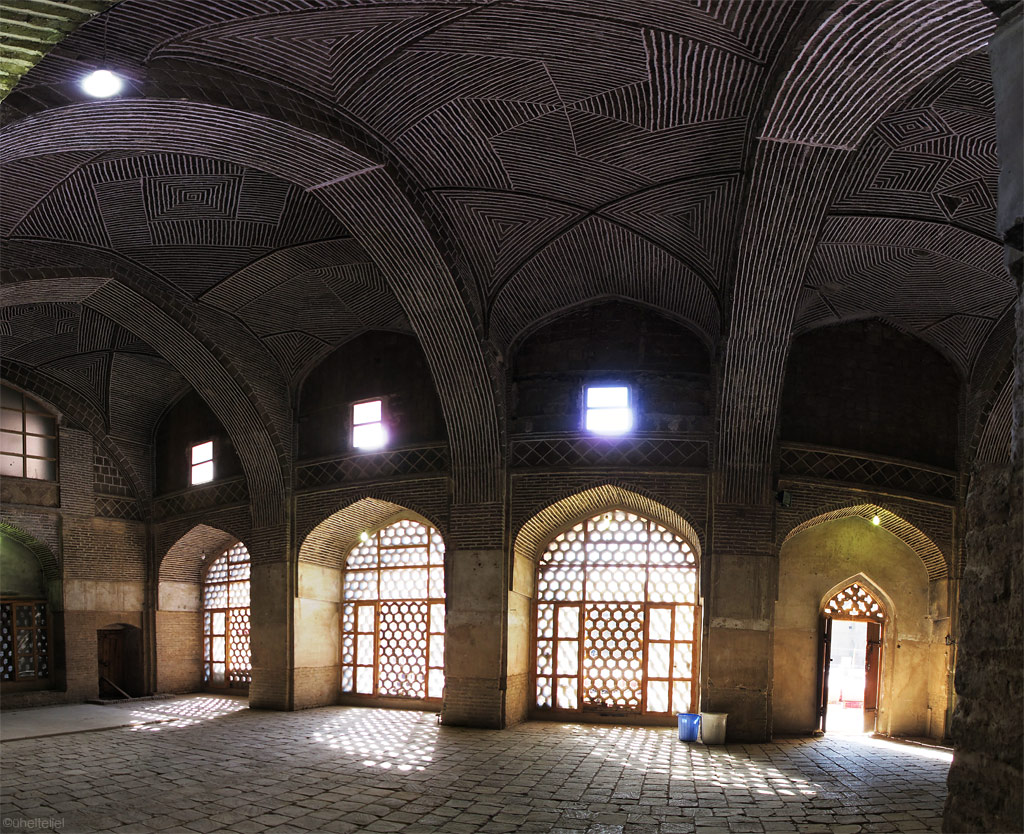 Inside Jameh.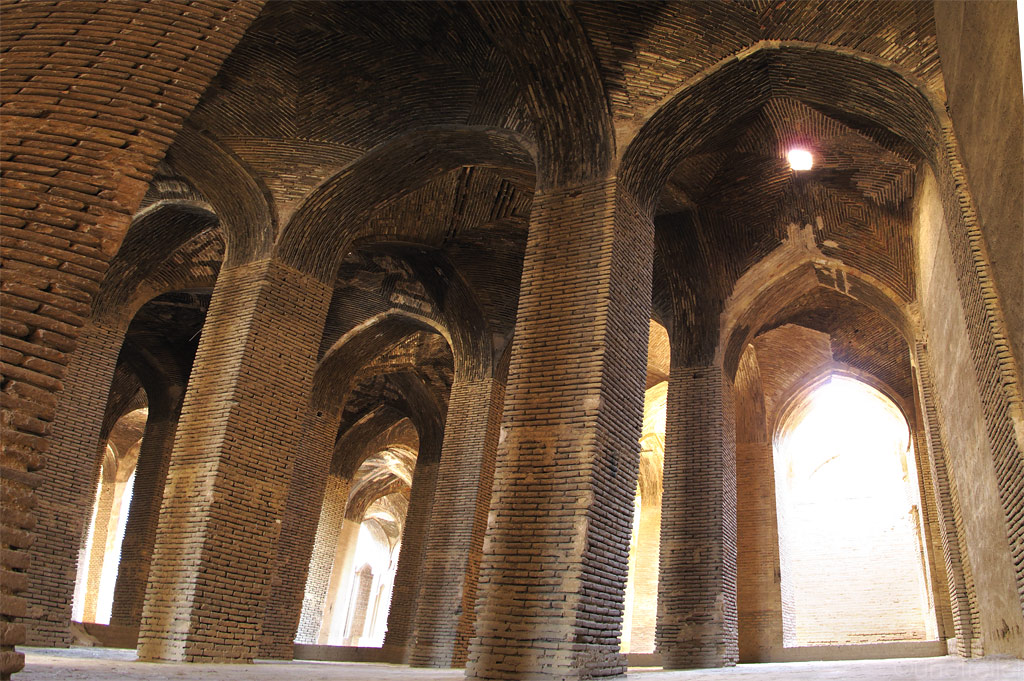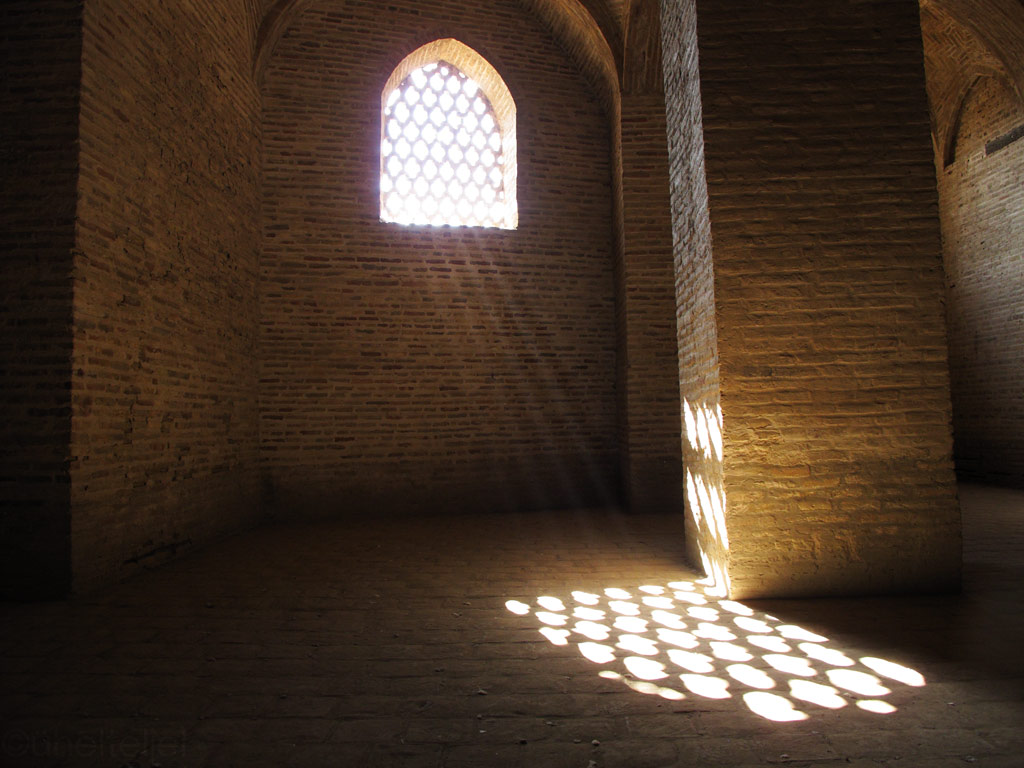 The light has come through here for thousand years...

Ancient mosque from inside.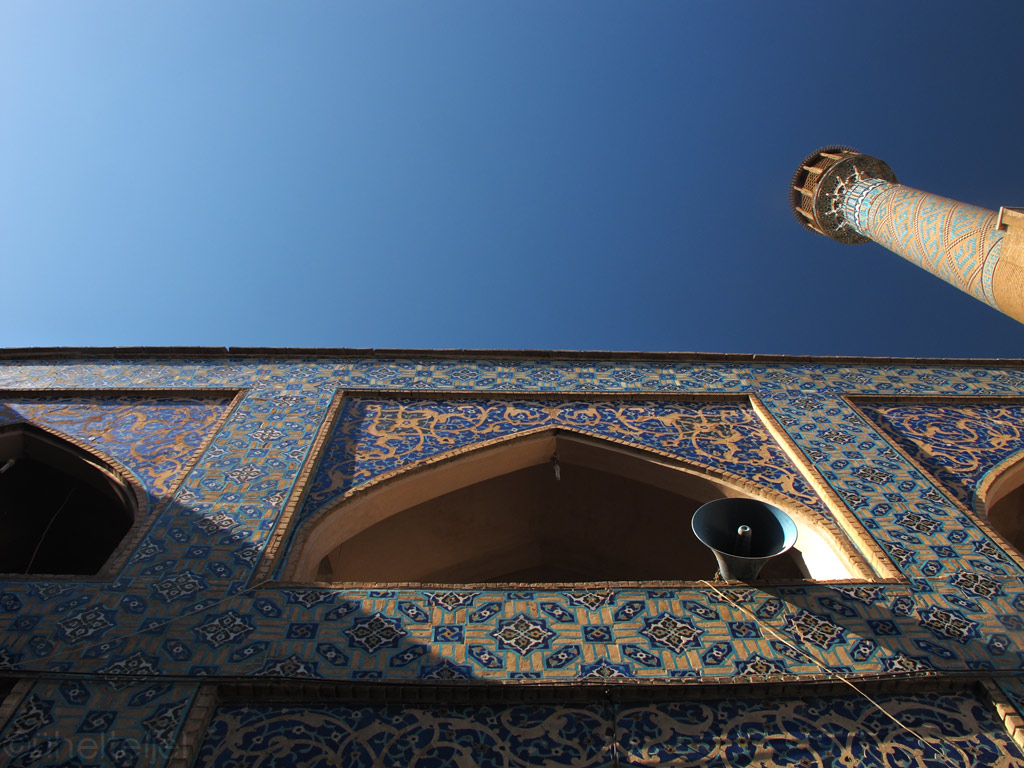 Loudspeaker and a minaret.
And then the bridges, the meeting place for many a youth in Esfahan. The evenings, when the bridges are lit up, are the most popular times to hang around: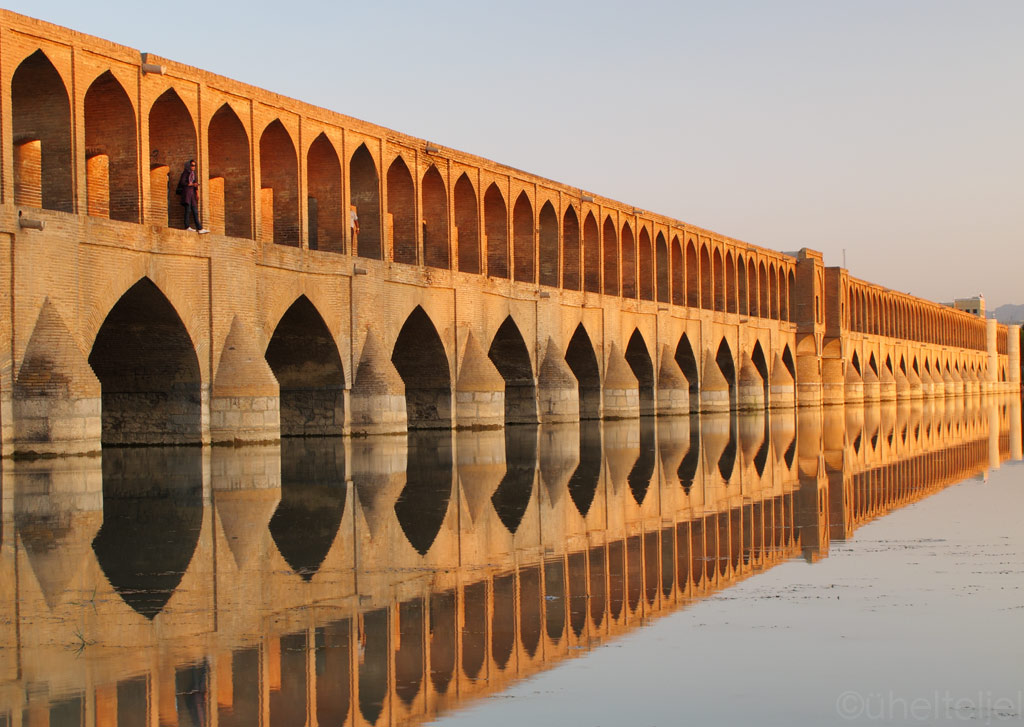 Si-o-Se bridge in Esfahan.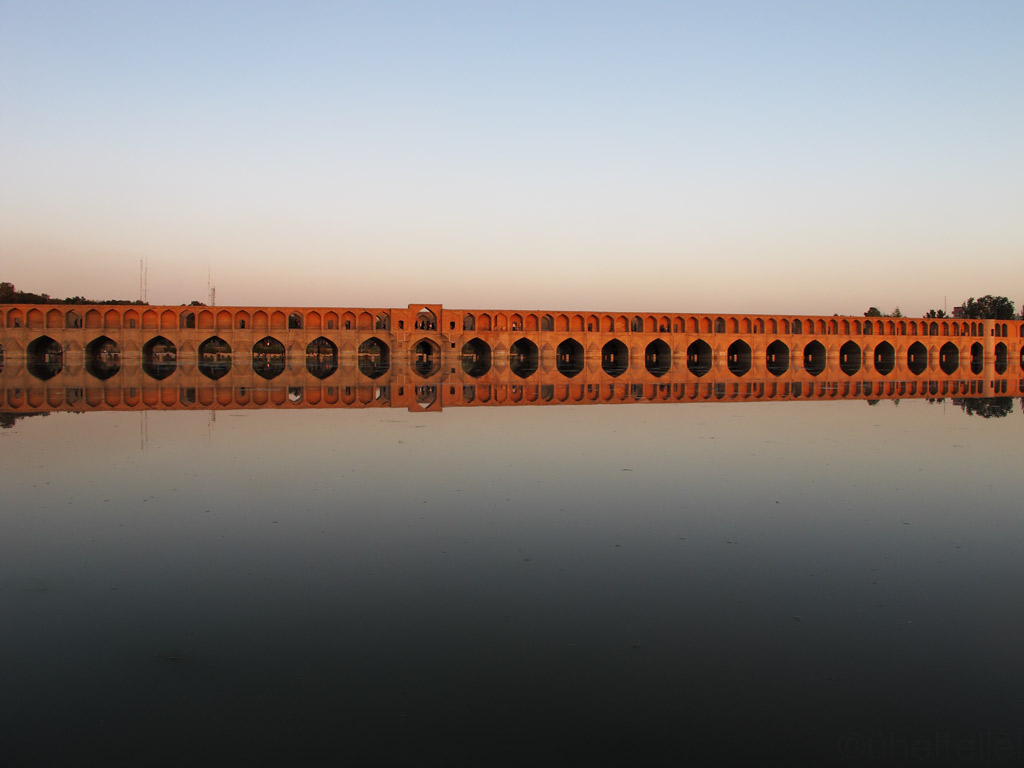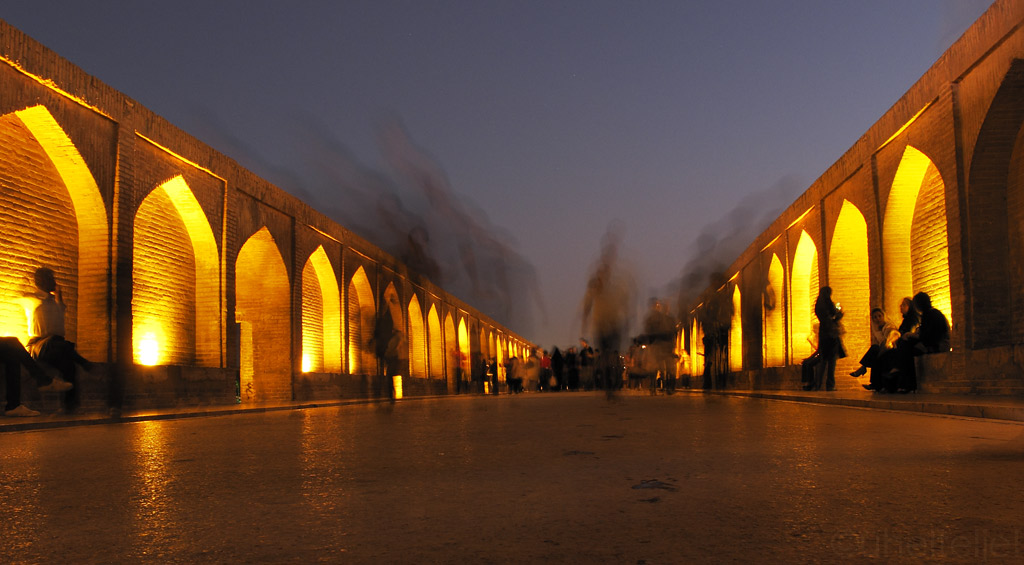 It sparks into life in the nighttime.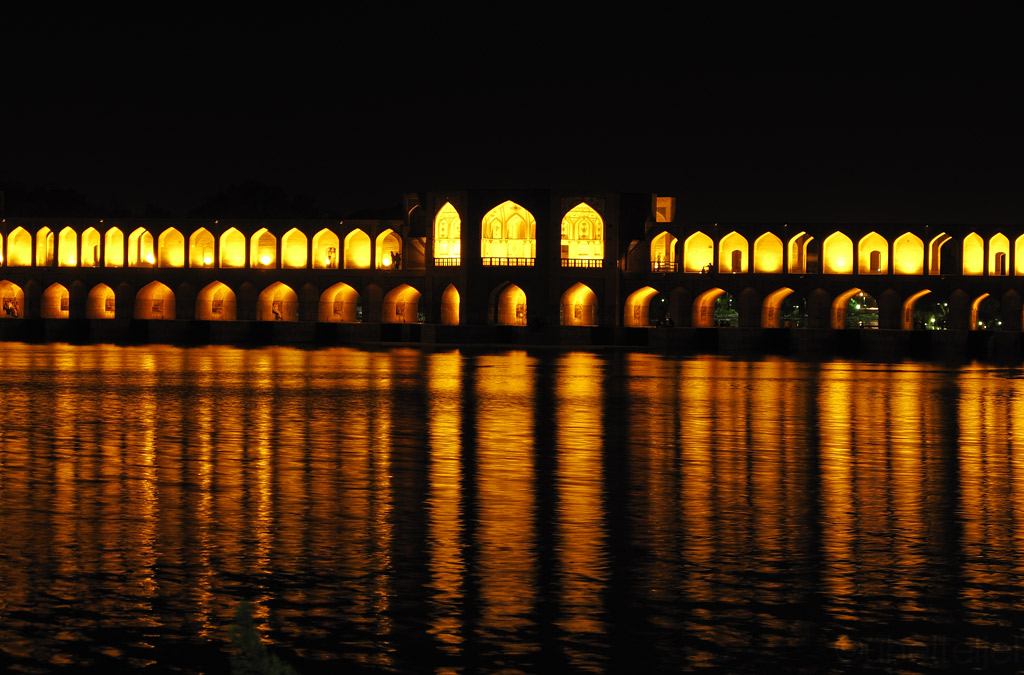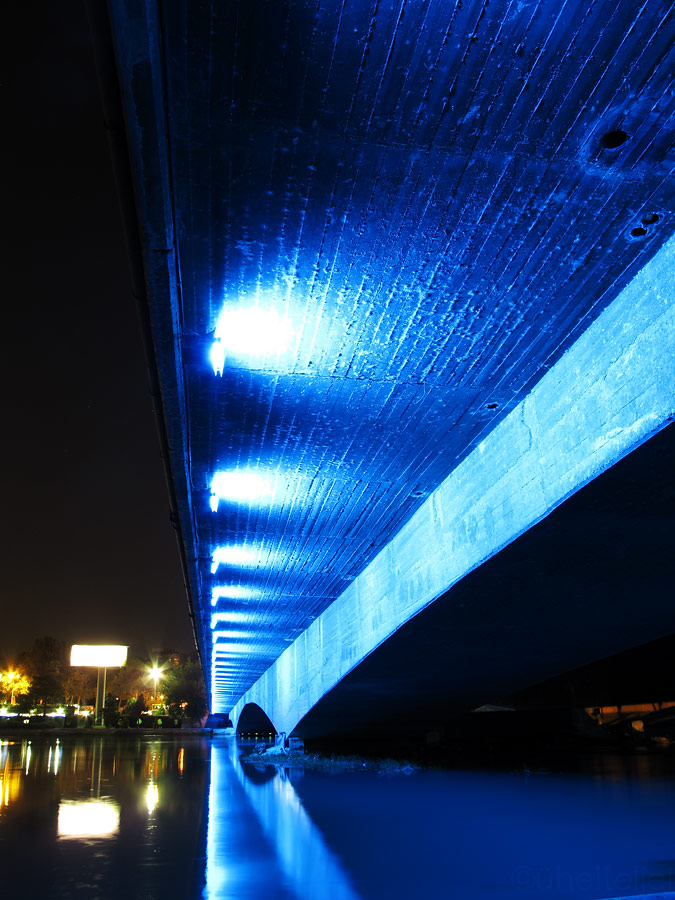 Strangely, one of the bridges was lit with neon-blue, maybe for a contrast?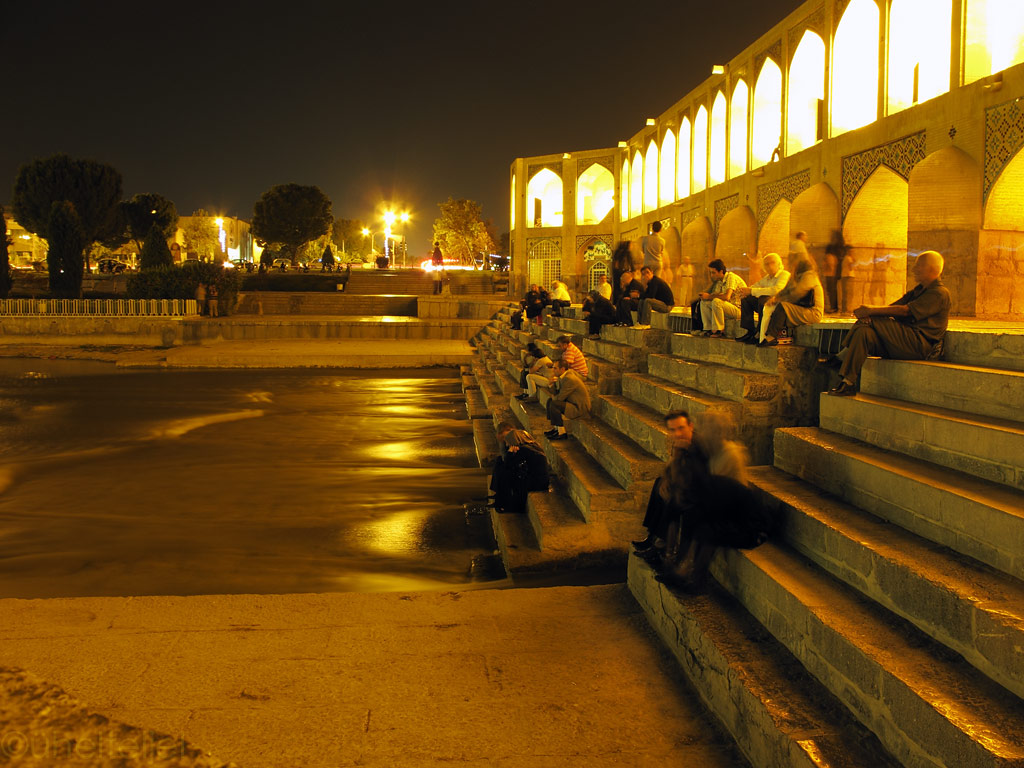 People on Khaju bridge.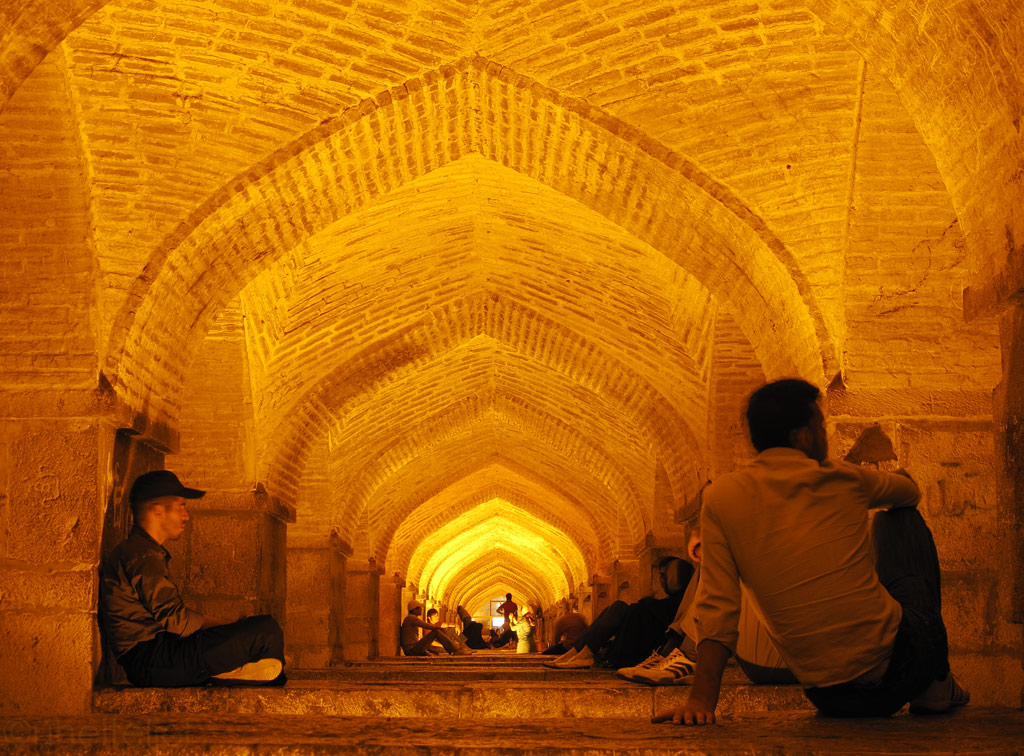 Beneath the Khaju bridge.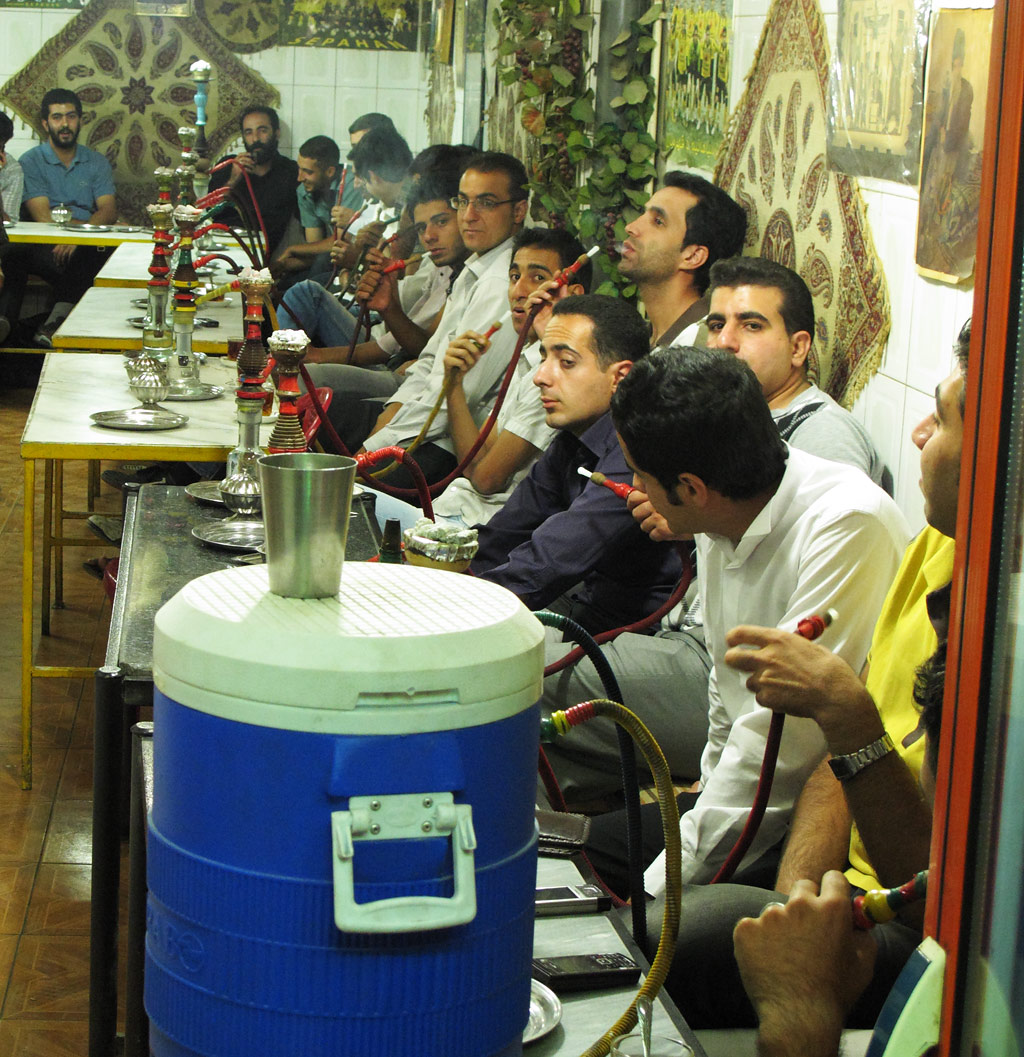 People in Esfahan are also crazy about drinking tea and puffing on the water pipe.
After Esfahan we had thought of spending a couple of nights in Shiraz - five years ago it had left us a somewhat poor impression, so we decided to give it a second chance.
On the way to Shiraz we had our first and last kebab on our journey through Iran. Last time we had eaten a couple of kebabs too many, so we could not even bear the smell of them - it was the only food we could find. But now it's becoming more and more difficult to find a good kebab in big cities - the burgers are really popular. But a tiny roadside eatery really delivered.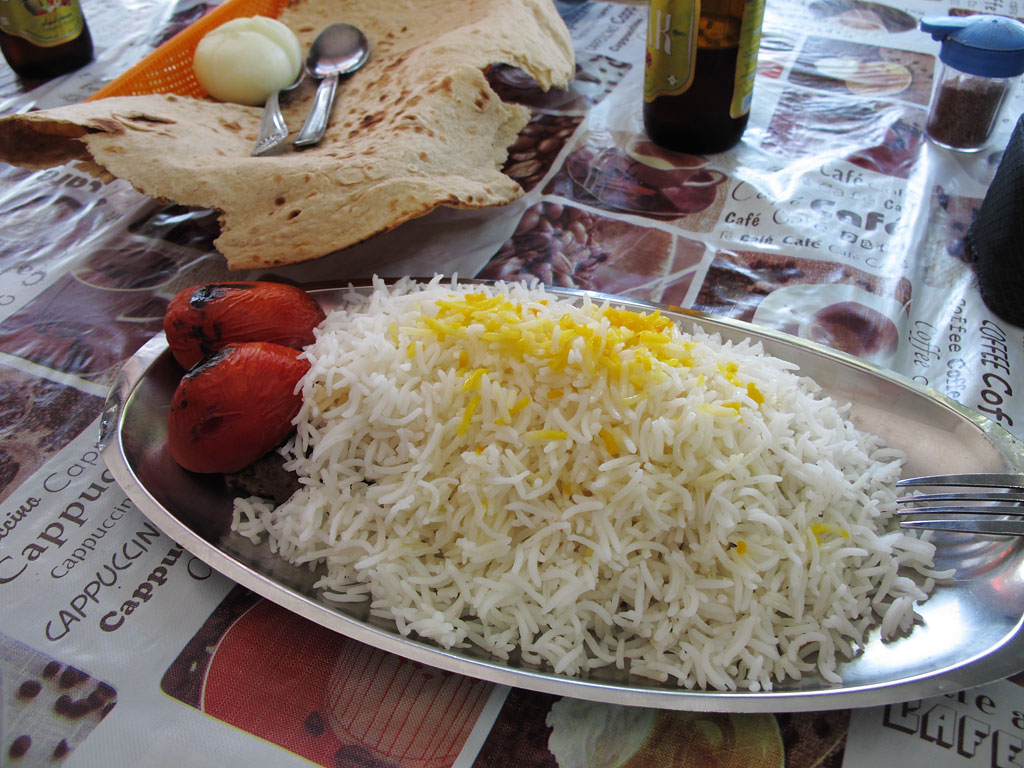 Iranian kebab - meat is hidden under the rice.
Fortunately not all of the traditional foods are giving in to Western "delicacies". One of the great finds was an Esfahani sweet which is called "gaz". Made out of egg white, sugar and pistachio nuts, it is sweet like the Iranians themselves - we were even offered some gaz when asking for directions on the road!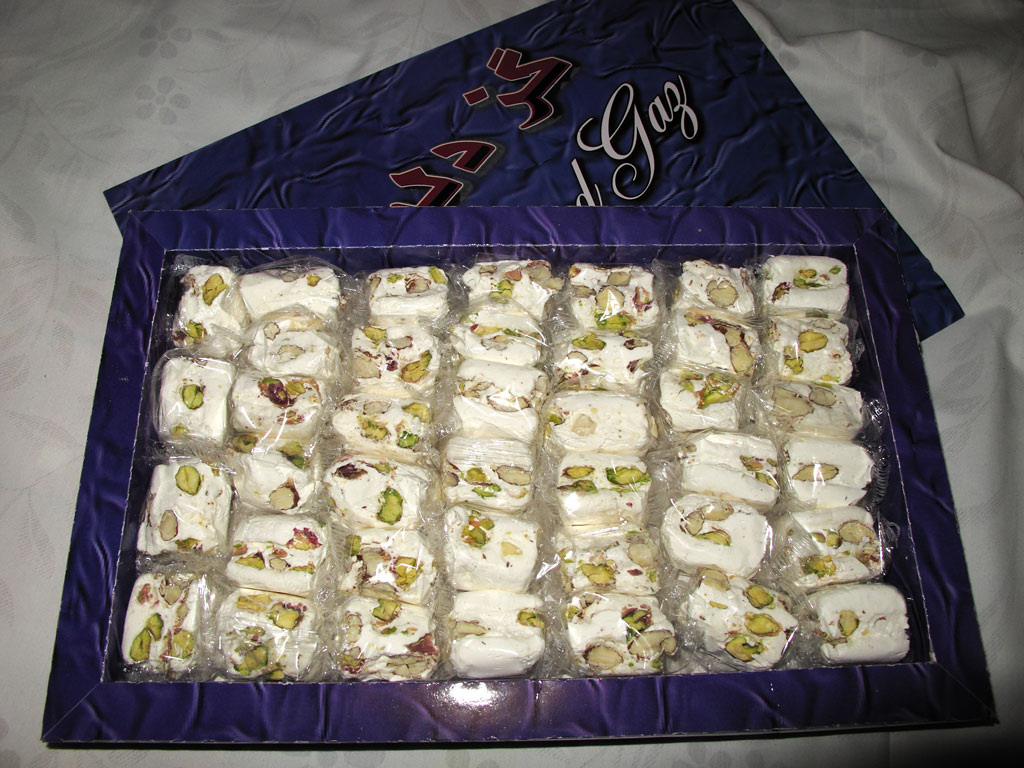 Gaz.
The directions worked well, we arrived in Shiraz. The city is known for its gardens (and Iranians, people of the desert are extremely proud of their gardens which are the common theme in Persian carpet design), so no wonder a local guy, Alireza took us around some of its famous gardens. Later he also took us to the best
faludeh
shop in Shiraz.
Faludeh
is a frozen dessert which resembles a lot the falooda we tasted in Pakistan, but is still quite different. Anyways, its more distinctive ingredients are thin vermicelli and lime juice.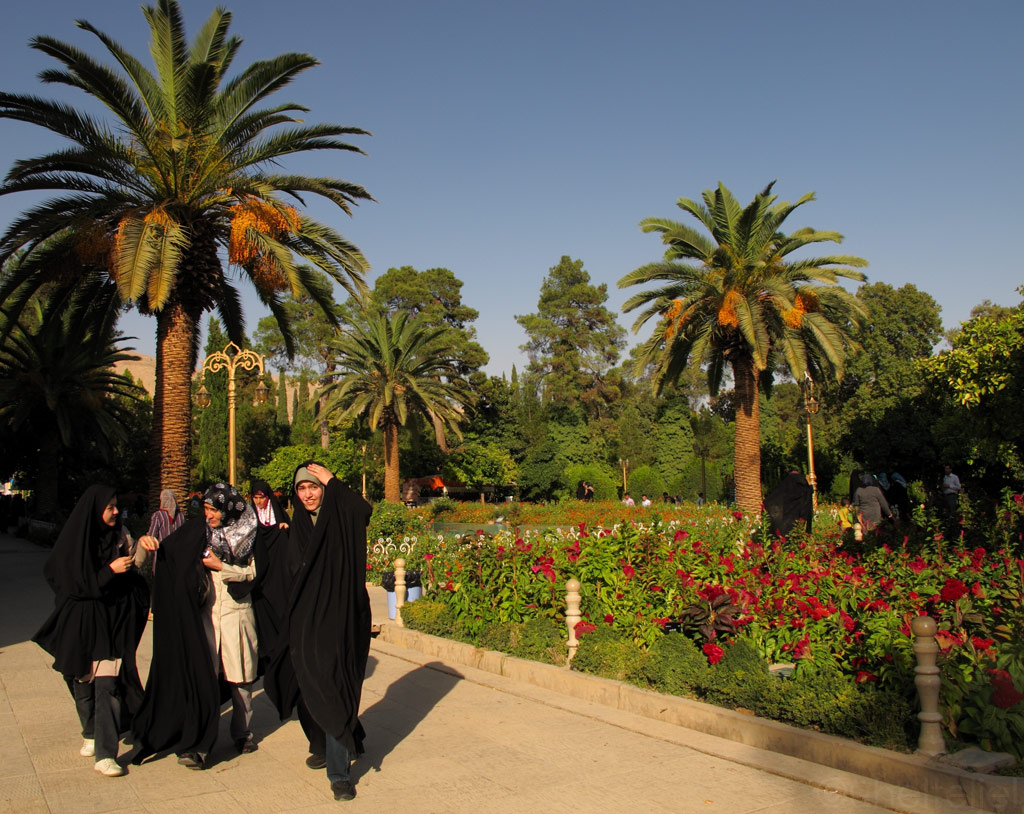 Parks in Shiraz.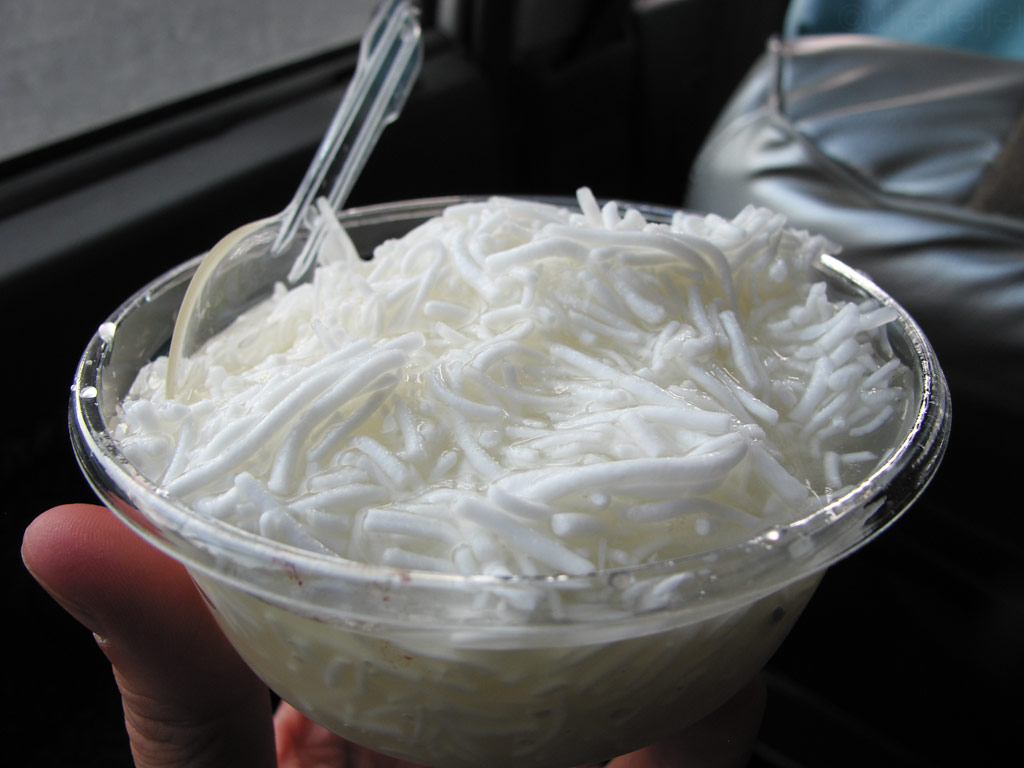 Iranian
faludeh
.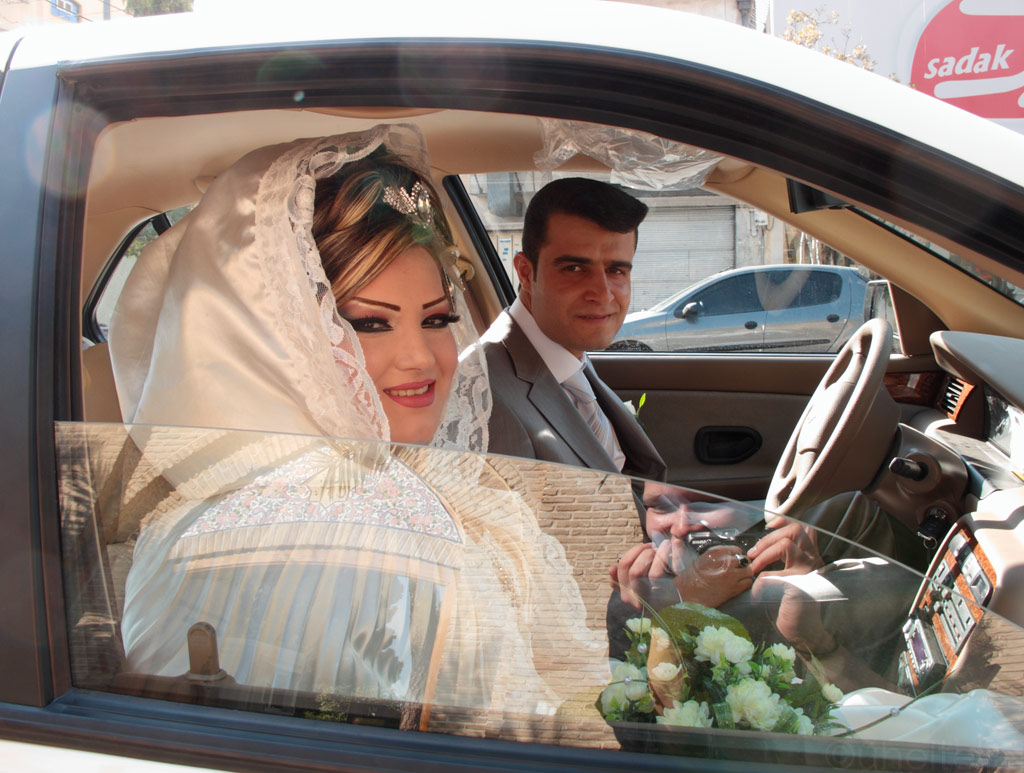 Iranian couple on the way to their wedding.
The gardens, however, are not the only place to get to see some flowers in Shiraz (which is otherwise pretty crowded and polluted, so it is only natural the habitants of the city escape into the gardens). A mosque called Nasir-ol-Molk looked feminine indeed with so many "flowering" tiles.
Nasir-ol-Molk mosque...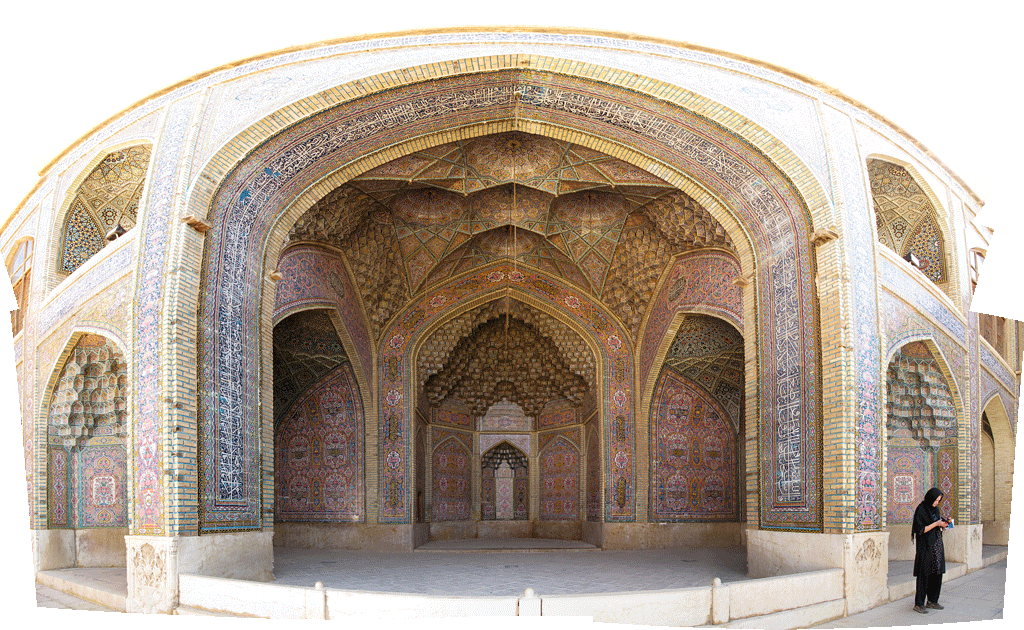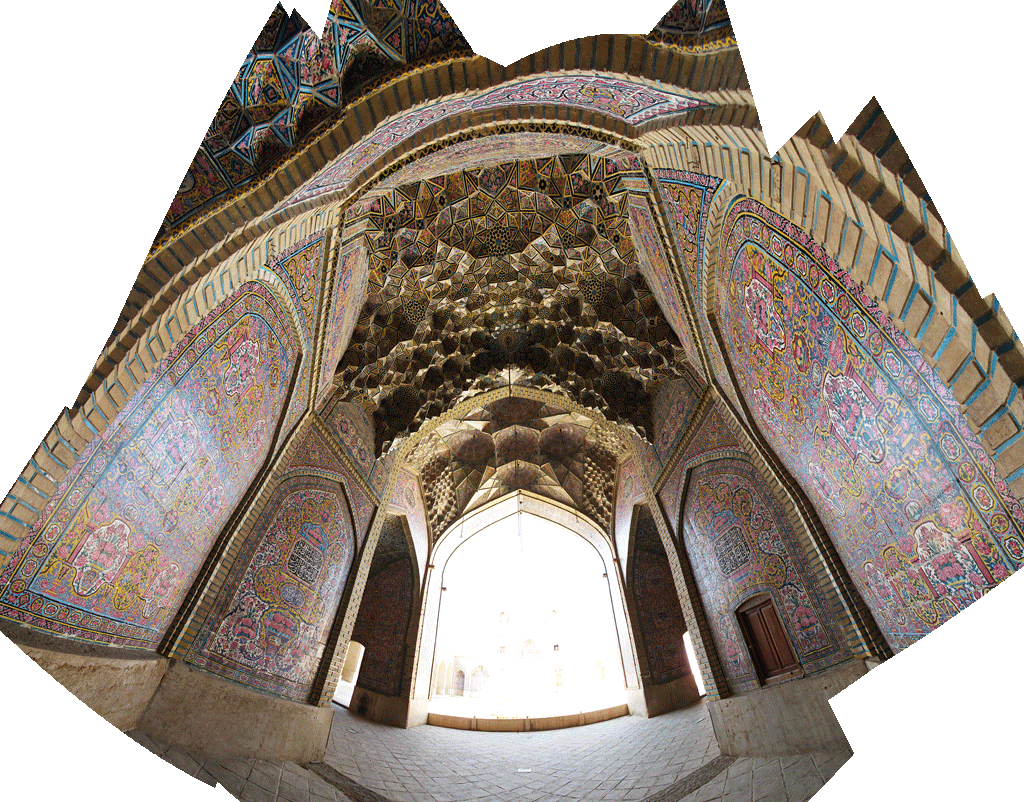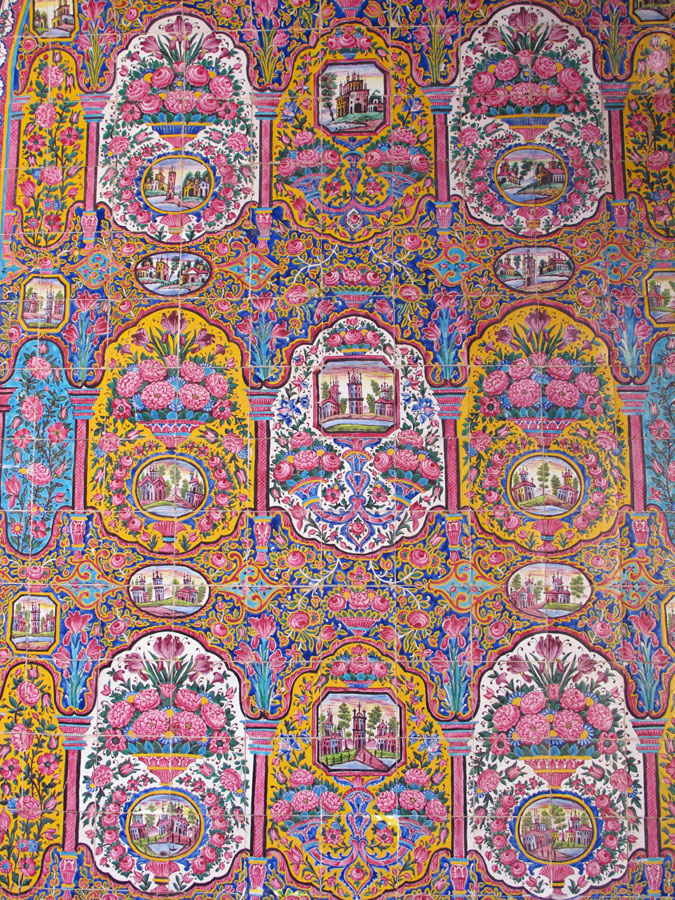 Closeups from mosque walls...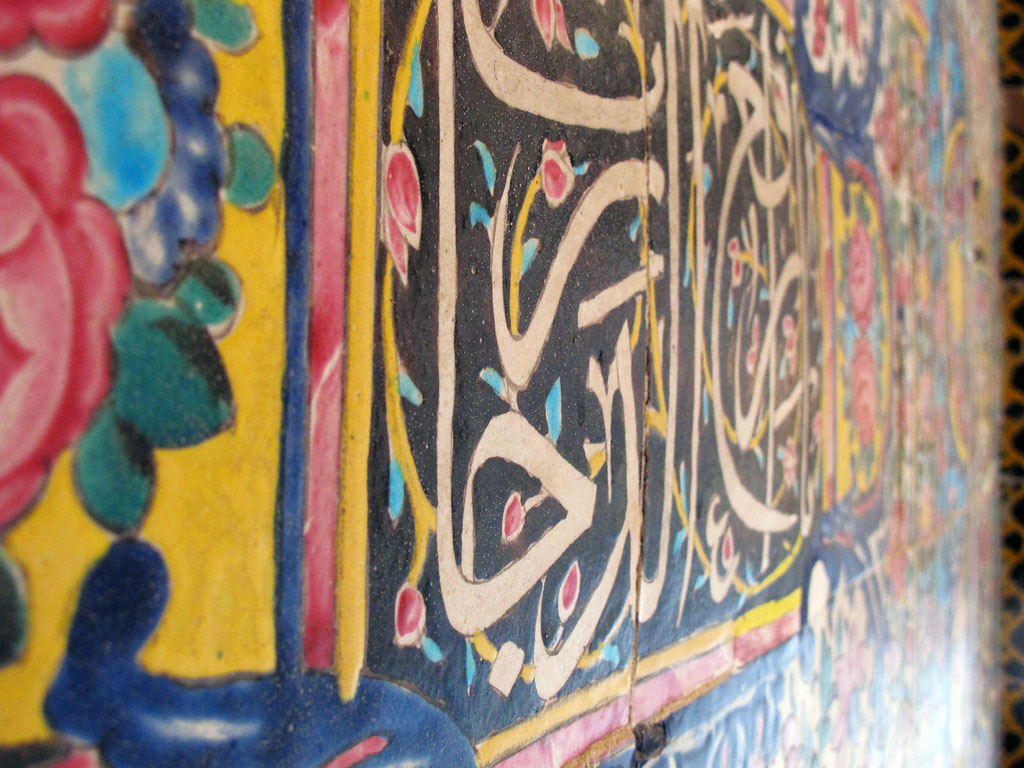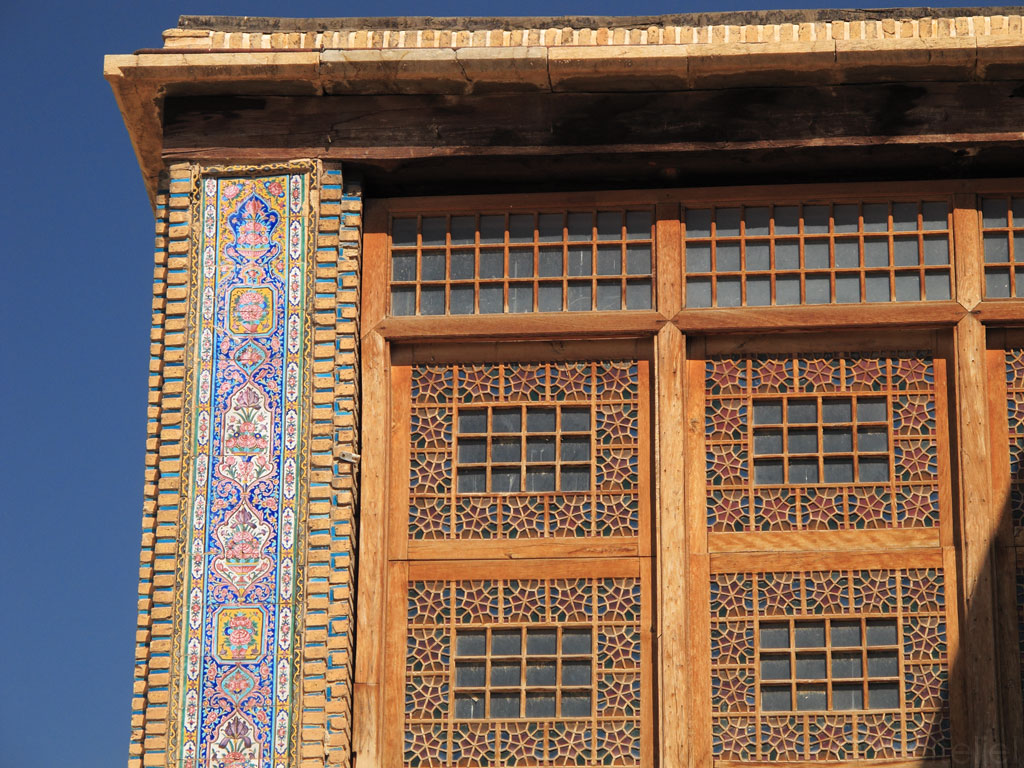 Window.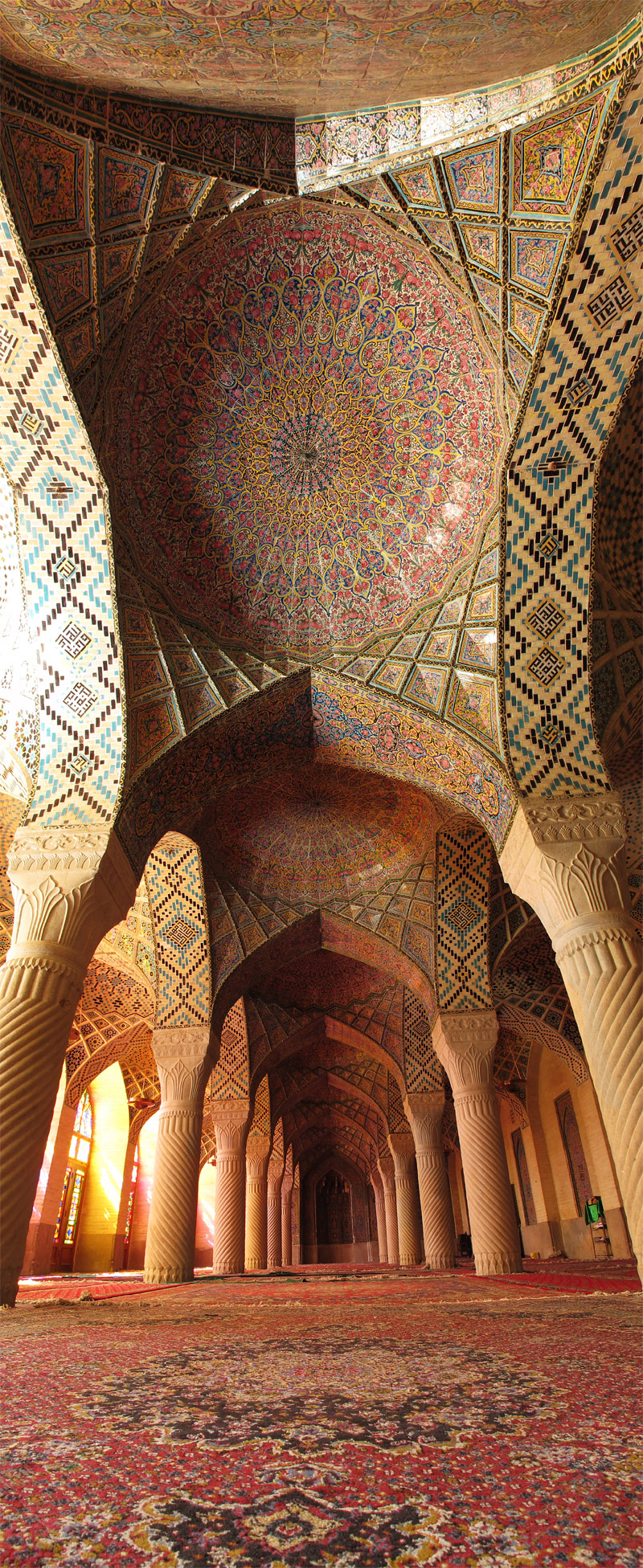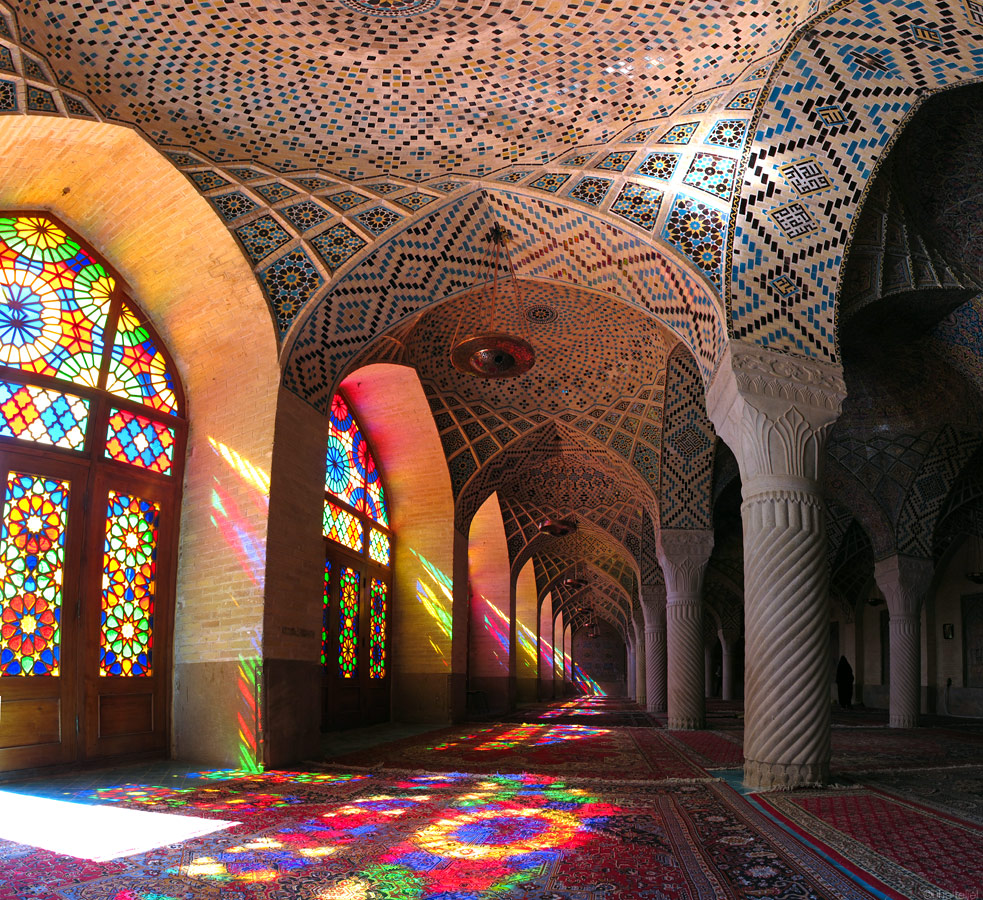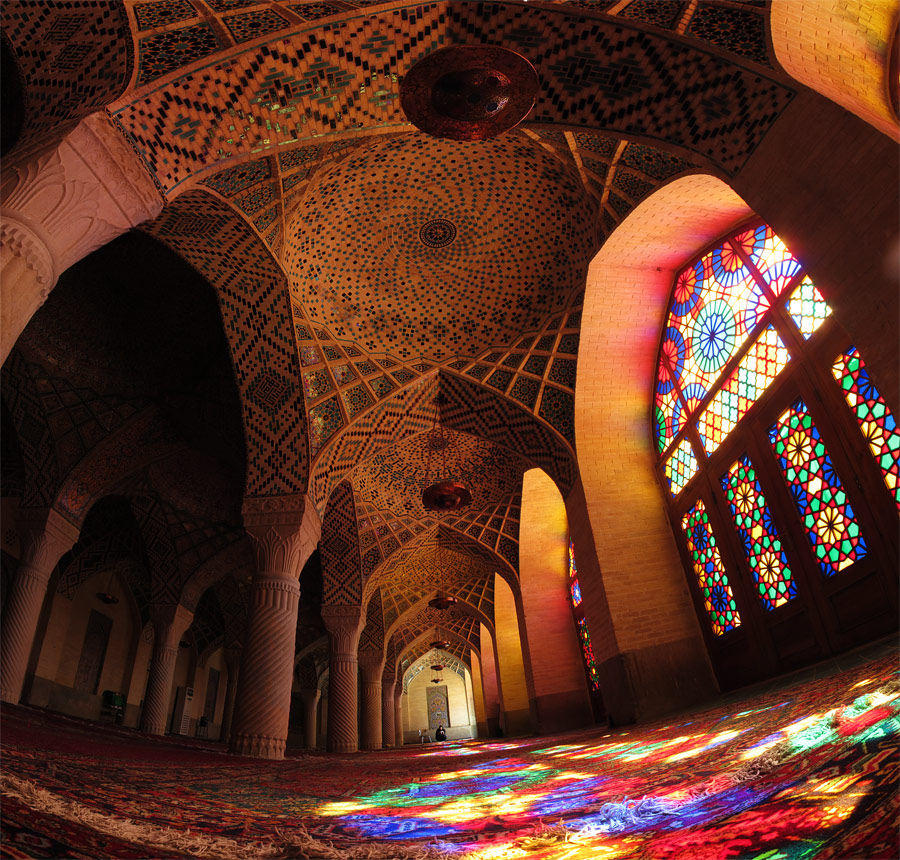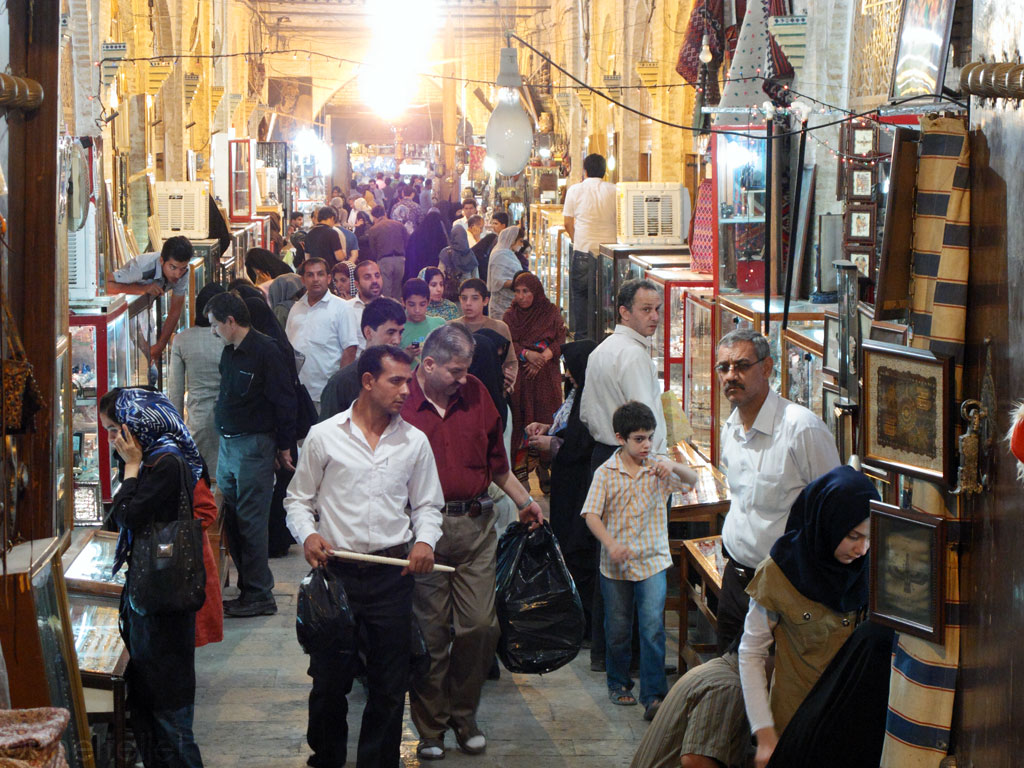 We also paid a visit to the famous market, Bazaar-e-Vakil, which was just as crowded as everything else.
After two nights in Shiraz we set off to the coastal town of Bandar Abbas which was very much different from the rest of Iran - it was dirty, seedy and overpriced. After a night at a 50-dollar hotel (everything else was either full or even more expensive) we found that the oil bottle we had been keeping on our pannier had gone missing. In Iran!!! We spent the second night waking up every hour to check on the bike - smuggling is a big business in Bandar Abbas. By morning the bike was still there, but someone had scribbled "I love Iran" with a pen on it. Nice indeed!!!
The bureaucracy at the port was mindblowing, but after a whole day running around with the papers collecting various signatures and stamps, we were finally on the ferry going to United Arab Emirates. Needless to say, the ride was hot and very-very humid.