Ozon's 'House' tops San Sebastian
'Blancanieves' takes Jury Prize, Trueba best director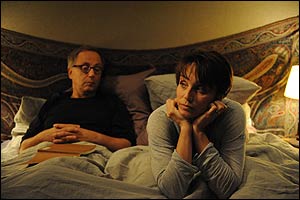 'In the House'
SAN SEBASTIAN Helmer-scribe Francois Ozon's high-school thriller "In the House" won the Golden Shell for film on Saturday as the 60th San Sebastian's Film Festival came to a close.
The second edition under Jose Luis Rebordinos saw a significant step-up film quality, star presence and industry dealings.
Starring Kristin Scott Thomas and Emmanuelle Seigner, "House" also took screenplay honors. It came into San Sebastian on a roll from Toronto where it won a Fipresci film critics award.
The main competish jury, chaired by U.S. producer Christine Vachon, awarded the Silver Shell for director to Fernando Trueba's black-and-white "The Artist and the Model," starring Jean Rochefort as a sculptor who finds new zest for life in a young model in war-torn France in 1943.
Pablo Berger's silent Snow White makeover "Blancanieves," also shot in black and white, took the special jury prize. Its young star Macarena Garcia shared actress honors with Katie Coseni, from Laurent Cantet's "Foxfire."
Jose Sacristan won actor for his perf as a dying hitman in Javier Rebollo's "The Dead Man and Being Happy."
As the Spanish film industry fears swingeing film subsidy cuts for 2013, San Sebastian kudos rep a vindication of the vigor of current Spanish filmmaking.
Other national titles also played well. Out of competition, Juan Antonio Bayona's "The Impossible," a post-tsunami family drama with Naomi Watts and Ewan McGregor, amazed local auds with its technical prowess.
However modest, David Valero's three-part docu-feature "Los Increibles," which screened in a New Directors sidebar, proved a heartwarming tragicomic record of people confronting death and loss.
Beyond Spanish pics, new buzzed-up San Sebastian titles included Jonathan Gurfinkel's teen sex drama "Six Acts," a Films Distribution worldwide sales pick-up, turning on "the 'grey zones' of sexual abuse," per Gurfinkel. "Six Acts" picked up the TVE-Other Look Award.
A FiGa Films acquisition, Fernando Guzzoni's "Dog Flesh," chronicling the life of a former torturer, merited San Sebastian's New Directors prize.
Armando Bo's Sundance hit "The Last Elvis," co-produced by Anonymous Content, won a hard-fought Horizontes Latinos prize as the section goes from strength to strength.
Honoring Dustin Hoffman, Ewan McGregor, Oliver Stone, John Travolta and Tommy Lee-Jones with lifetime Donostia Awards, and with Richard Gere, Susan Sarandon, Benicio Del Toro, Ben Affleck, Penelope Cruz and Monica Bellucci all in town, San Sebastian boasted its biggest U.S. presence in years.
Going into the festival, industry accreditation was tracking 10% up at 1,100 participants. Fest's two major industry events - its Films in Progress pix-in-post showcase and a first Europe-Latin America Co-production Forum - were packed with producers, sales agents and festheads.
Toronto's greater insistence on world premieres means more companies are choosing
San Sebastian for their films European preems, said Vincent Maraval at Wild Bunch, which had four films in competition, including Ozon's "House."
A good selection attracts more buyers, he added.
"San Sebastian has always positioned itself as a point-of-encounter for Latin American and European films, and Latin America is one of the only regions in the world which, in the current economic crisis, is still building," added Michel Ruben, at Colombia's Dynamo.
Receiving a standing ovation at San Sebastian's closing ceremony where he accepted his Donostia Award, Hoffman thanked the festival for treating cinema as an art form, before presenting his directorial debut, "Quartet."
Fest ran Sept. 21-29.
i>Emilio Mayorga contributed to this article/i>
WINNERS OF THE 60TH SAN SEBASTIAN FILM FESTIVAL
INTERNATIONAL COMPETITION
GOLDEN SHELL
"In the House," (Francois Ozon, France)
SPECIAL JURY PRIZE
"Blancanieves," (Pablo Berger, Spain)
SILVER SHELL, DIRECTOR
Fernando Trueba ("The Artist and the Model," Spain)
SILVER SHELL, ACTRESS (ex aequo)
Macarena Garcia ("Blancanieves," Spain)
Katie Coseni ("Foxfire," France, Canada)
SILVER SHELL, BEST ACTOR
Jose Sacristan ("The Dead Man and Being Happy," Spain-Argentina-France)
CINEMATOGRAPHY
Touraj Aslani ("Rhino Season," Turkey)
SCREENPLAY
Francois Ozon ("In the House")
SPECIAL JURY MENTION
"The Attack" (Ziad Doueiri, Lebanon-France-Quatar-Belgium)
OTHER MAIN PRIZES:
KUTXA NEW DIRECTORS' AWARD
"Dog Flesh," (Fernando Guzzoni, Chile-France-France-Germany)
KUTXA NEW DIRECTORS' MENTIONS
"El limpiador," (Adrian Saba, Peru)
"Parviz" (Majid Barzegar, Iran)
SGAE-FUNDACION AUTOR AUDIENCE AWARD
"The Sessions," (Ben Lewin, U.S.)
SGAE-FUNDACION AUTOR AUDIENCE AWARD, EUROPEAN FILM
"The Angel's Share," (Ken Loach, U.K.-France-Belgium-Italy)
HORIZONTES AWARD
"The Last Elvis," (Armando Bo, Argentina-U.S.)
HORIZONTES, SPECIAL MENTION
"One Upon A Time Was I, Veronica," (Marcelo Gomes, Brazil)
"After Lucia," (Michel Franco, Mexico-France)
EUSKALTEL YOUTH AWARD
"7 Cajas," (Juan Carlos Maneglia, Tana Schembori, Paraguay)
FILMS IN PROGRESS AWARDS:
FILMS IN PROGRESS INDUSTRY AWARD
"Gloria," (Sebastian Lelio, Chile)
NORTEADO AWARD
"Too Much Water," (Ana Guevara, Leticia Jorge, Uruguay-Mexico-The Netherlands)
CINEMA IN MOTION AWARD (ex aequo)
"The Golden Calf," (Hassan Legzouli, France-Morocco)
"Waves," (Ahmed Nour, Egypt-Morocco)
OTHER AWARDS:
FIPRESCI INTL. FEDERATION OF FILM CRITICS' PRIZE
"The Dead Man and Being Happy,"
TVE OTHER LOOK AWARD
"Six Acts," (Jonathan Gurfinkel, Israel)
OTHER LOOK, SPECIAL MENTION
"The Attack,"
SIGNIS AWARD
"Gone Fishing," (Carlos Sorin, Argentina)
SOLIDARITY AWARD
"Capital," Costa-Gavras (France)
SEBASTIENE 2012 AWARD
"Young & Wild," Marialy Rivas (Chile)
ENDS